Vedic Astrology is a vast ocean of knowledge. And it is really complex, to read all classic books written by Maharishis, comprehend, and then memorize the divine knowledge. So my purpose in writing this blog is to guide those, who have great passion, but due to time constraints, cannot devote much to Astrology.
So if you are new to Astrology, then I would strongly recommend you focus on astrology basics. If you are really keen to understand Astrology, then you need to proceed step by step. Only patience and practice are the key to learning Astrology.
Astrology and Karma: Astrology is a divine science that enables us to see the future and this can be seen with the help of Horoscope. The horoscope depicts a picture of the results of the Karmas accomplished by a person in his past births known as Sanchit Karmas.
What is Kismet/Destiny
Bhagya is made up of the accumulated balance of our Karma Phala available in the present birth out of the Sanchit Karmas.
The horoscope is a detail of our Sanchit Karmas or in other words balance sheet of the good or bad karmas, we accomplished in our previous births. So when a child is born a screenshot of the planetary position is taken.
Do you know that our soul actually waits for a certain planetary alignment, it waits for particular yogas to be formed so that after birth that particular soul gets that body to exhaust all pending bad and good Karmas. Therefore whenever a person does Karma, it is added to his Karmic Account.
Astrology and Karma
The Astrologer reads the prarabdha karmas, the portion of sanchita karmas that we are destined to experience in this present life. The birth chart reveals the positive and negative aspects of our prarabdha karmas. All of us must experience our prarabdha karmas.
The time of birth defines the prarabdha karmas. These karmas can be either sattvic, rajasic, or tamasic, depending on the nature of the planets involved. In addition, these karmas can have different levels of intensity, and here we have the following three classifications:
Dridha Karmas
Adridha Karmas
Dridha/Adridha Karmas
What are Dridha Karmas
These karmas are extremely difficult to change and are represented in the chart by serious afflictions or impediments caused by the poor placement of house lords and the influence of malefic planets. An example of this would be the status of wealth or poverty in an individual's life or the state of success in his/her career.
This is the responsibility of an Astrologer, to give solutions considering the fact. For Example, if a person is not destined to have a child or there are Dridha Karmas, obstructing, then one should not struggle to change things rather surrender and accept the harsh truth.
What are Adridha Karmas
These Karmas can be changed by cultivating a positive attitude, good karmas, following dharma, and through good action. Initially such Karmas trouble, but when you follow Dharma and work hard at three levels, mind, speech, and body, then they change their results.
What are Dridha/Adridha Karmas
These are less serious and can be changed only through determined effort, especially through spiritual practices such as meditation, yoga, sincere devotion to Goddess, and charitable contributions for a good cause. Here it depends on the person, he has free will, if puts effort, then he can surely change his status.
So how to analyse what kind of karmas are associated with each planet and which life segment. Contact and Connect
9 Planets in Astrology – Nine Treasures of your Life
The 9 Planets in Astrology: In a Horoscope, there are Nine planets, Twelve Houses, Twelve Signs, and Twenty Seven Nakshatras. Therefore these 9 planets signify different things in various areas of life.
Every planet has a different position in various spheres of life. If you understand the basic features of all these planets and the details of the twelve houses then you can easily understand certain things about your horoscope. So let's understand what are these 9 planets.

Sun
Royal and Authoritative
In Astrology the Sun is called the Atma Karak planet, so Atma means Soul, therefore it states the purpose of your soul. This represents dignity, authority, power, and respect. The Sun is the Agni tattva, the purest form of energy, so it also signifies passion, vitality, perfection, and spiritual energy.
Leo Sign – This is the 5th lord of the natural zodiac, so it has the traits of the 5th house. In Astrology 5th house states intelligence, Purva Punya bhav, and grasping power.
The 3 Nakshatras – Kritika, Uttar Phaguni, and Uttarashadha are the 3 stars of the Sun.
Career – In the profession, Sun states your name and fame in the workplace. Therefore a strong position of Sun can give career options related to govt, services, administrative departments, and even the father's profession.
Health – In Medical Astrology, Sun plays the most important role as it governs vitality, immunity, and general health. Diseases governed by Sun are dehydration, Sunstroke, Headaches, and even Bones.
Moon
9 Planets in Astrology – The Karaka of Mind

Moon is the Karak planet of mother, mind, and imagination. This is the most sensitive planet, and in my experience, its position in the horoscope needs deeper analysis. So if it is strongly placed it makes the person very balanced, intuitive, and compassionate. Moon is the Jal tattva, and water signifies feelings and sentiments.
Cancer Sign – This is the 4th lord of the natural zodiac, so it signifies comfort, happiness, and sleep. It is also considered to be the caretaker and nourisher.
The 3 Nakshatras – Rohini, Hasta, and Shravana are the 3 stars of the Moon.
Career – The moon represents your mind so it indicates occupations such as Psychology, psychoanalysis, or any studies related to the Mind. Being the giver of food and the prime sustainer in this world it includes specializations that are related to food products such as hotel management, catering, bakery, confectionery or dairy products, and also apparel.
Health – Diseases governed by Moon mainly gives mental issues like depression, unhappiness, restlessness, sleep disorder, and even anaemia.
Mars
9 Planets in Astrology – Energy or Conflict

Mars is the significator of stamina, boldness, liveliness, and energy in the body. This is the Commander in chief in the planetary hierarchy. Therefore it represents anger, opposition, quarrels, and weapons. If Mars is positively placed, then he uses aggression and irritation in an optimistic way. A weak Mars distorts the energy of a person and directs to forceful or self-destructive behavior.
Aries and Scorpio Sign – Mars is the lord of Aries – the first lord of the natural zodiac. So it is called the action-oriented planet. And Aries sign in the horoscope states your fulfillment.
Scorpio is the 8th sign of the natural zodiac. So this signifies secrecy, mysticism, and problems. So open aggression is governed by Aries and secretive aggression is stated by the Scorpio sign.
The 3 Nakshatras – Mrighashirs, Chitra, and Dhanistha are the 3 stars of Mars
Career – Mars represents energy, and energetic preferences are always linked with principles and ideologies. So it can give great technical and mechanical abilities and makes them builders, designers, engineers, and good surgeons. Or being a lover of weapons one can be inclined toward firearms, leaders, generals, warriors, and policemen.
Health – Mars generally gives disease related to an imbalance of Agni or Pitta Dosha in the body. This involves inflammation, a disorder in the blood, wounds, and cuts. And if afflicted then it can give the illness to the stomach, bone marrow, men's sexual problems, and even surgeries.
Mercury
9 Planets in Astrology – Clever and Calculative

Mercury signifies intelligence, discrimination, communication skills, and education in Vedic astrology. This is the most joyful planet and is the Prince of the planetary cabinet. Therefore one is Witty, Versatile, Communicative, Intellectual, Lively, & Youthful if Mercury is strongly placed and has no afflictions. Mercury is our conscious mind, so it makes us clever, calculative, and analytical.
Gemini and Virgo – Mercury is the lord of the 3rd and 6th lord of the natural zodiac. Being the 3rd lord – Gemini, it represents all verbal and oral communication. This includes documentation, printing, writing, publishing, and journalism. And Virgo represents the critical and analytical part. This involves 6th house traits. Now, this can be dispute, debt, and disease.
The 3 Nakshatras – Ashlesha, Jyestha, and Revati are the 3 stars ruled by Mercury. Those born in Mercury stars are called the Gand Mool Nakshatra, which actually gives a lot of behavioral issues.
Career – Mercury signifies a career related to Information technology, sales, marketing, commission, and business. This also includes professions related to education and the entertainment industry. Because Mercury is youthful, it gives a strong passion for mimicry, acting, and singing.
Health – Mercury gives diseases like deafness, issues in E.N.T., and instability of thoughts. Mercury also causes anxiety, the complexity of thoughts, and skin diseases. It governs problems like Weak Nerves, Loss of memory, breathlessness, and panic attacks.
Jupiter
Higher learnings and Wisdom

Jupiter is the Karaka of wisdom, knowledge, mastery, and good habits. This is also the significator of children, higher learnings, teachers, mentors, and spirituality. This is the most auspicious planet and is the Guru or teacher in the planetary cabinet. Therefore it signifies superior persons, so spouse and instructor in the horoscope.
Sagittarius and Pisces – Jupiter is the 9th lord of the natural zodiac, so only it states higher learnings and fortune. And Pisces is the 12th lord so it involves work with charity organizations, yoga, and meditation retreats. Pisces is the 12th sign of the natural zodiac, so it inherits certain features of the 12th house like a sacrifice, research, a foreign country, and good investments.
The 3 Nakshatras – Punarvasu, Vishakha, and Purvabhadrapada are the 3 stars of Jupiter.
Career – Jupiter is the teacher or the instructor. So it signifies a profession related to finance, accounts, and teachings. Therefore it involves a Profession related to financial organizations, banking, insurance, Auditing, law, and order, lawyers, and judges. Jupiter is a huge planet so it involves managerial or higher posts in a workplace.
Health – Diseases governed by Jupiter include liver and Cholesterol issues, and all kinds of tumor growths.
Venus
Beauty, Romance and Luxury

Venus is the significator of beauty, luxury, art, aesthetic sense, and ornaments. This planet signifies discriminative and relationship skills. It is also the Guru but Venus is the guru of Asura. So in today's era, venus gives material abundance like cash and jewellery and property and vehicles. So basically it gives only sensory pleasures.
Taurus and Libra – Venus is the lord of the 2nd and 7th house of the natural zodiac. So the 2nd house signifies speech and finance. Therefore Venus gives special skills of singing. Then being the 7th lord of the natural zodiac, it represents relationship and marriage.
The 3 Nakshatras – Bharani, Purva Phaguni, and Purva Asadha are the 3 stars of Venus.
Career – Venus gives career options to clothes sellers, artists, luxury brands, and photographers. This also includes the entertainment industry, food, and beverage industry. This even includes Fashion designers, attractiveness, craftwork, gems, and jewelry.
Health – Venus can give diseases related to hormonal issues, eyes, Diabetes, Kidney, fatigue, lousiness, and even skin problems.
Read more about 9 Planets in Astrology here
There are 9 Powerful Planets, and 12 Houses in Vedic Astrology which play a significant role in analyzing a Horoscope. Therefore every house signifies certain features. Hence I will explain each house in the simplest form.
The 1st House in Vedic Astrology
The first house represents the physical body, health, and brain. It gives a complete picture of the mindset, thought process, and personality. The 1st house denotes the character and general prosperity of a person.
The planets posited in the 1st house have a significant influence on the individual. Therefore if a strong Raj Yoga, then it brings luxury and comfort, from childhood only. As some are born with a silver spoon.
To learn more about the first house, and how to analyze the strength and weaknesses of the first house. Read The First House
The 2nd House in Vedic Astrology
The second house represents food and eating habits. It also rules family values, savings, personal finances, speech, and primary education.
Your net income, facial part, wealth, eyes, tongue, teeth, and how we express and communicate are seen from the 2nd house.
To learn more about the second house, and how to analyse the strength and weaknesses of the second house. Read the Second house in Vedic Astrology.
The 3rd House in Vedic Astrology
The third house represents your courage, siblings, writing skills, desire, and passion. Even the ambition, implementation of plans, neck, shoulders, arms, and communication skills are seen from this house.
To learn more about the third house, and how to analyze the strength and weaknesses of the second house. Read the Third house in Vedic Astrology.
The 4th House in Vedic Astrology
The fourth house represents happiness and comfort, mother, education, immovable property. Also the education, peace of mind, and emotion, is seen from this house. This governs your vehicles, fields, pastures, real estate, gardens, hereditary property, and treasures as well.
To learn more about the fourth house, and how to analyze the strength and weaknesses of the second house. Read the Fourth House in Vedic Astrology.
The 5th House in Vedic Astrology
The fifth house represents intelligence, hobbies, creativity, and a child. It also denotes love affairs, courtships, licentiousness, and knowledge. The past life good deeds, memory, and execution of our plans.
The 5th house represents music, art, drama, pleasure, recreation, amusement, and entertainment.
It also governs shares, lottery, gambling, and stock exchange. The chanting of Vedic hymns, religious mindedness, chanting of mantras, and spiritual practice are seen from the 5th house.
The 6th House in Vedic Astrology
The sixth house represents Disease, sickness, competition, employees, subordinates, or servants. Even the debts, enmity, hygiene, sanitation, fighting spirit, accidents, and misfortunes is seen from the 6th house.
The 7th House in Vedic Astrology
The seventh house represents marriage, partnership, and legal bondage. It represents a house in a foreign country as it is 4th from 4th, international relationship, contracts, and also influence in foreign countries. This house also signifies honour and reputation achieved there, the fines and divorces.
The 8th House in Vedic Astrology
The eighth house represents sex, intimacy, Longevity, occult, long-termed illness, transformation, inheritance, legacies, wills, insurance, and gratuity.
The 8th house denotes sudden events like drowning, fire, accident, or suicide. Even the mystery, misery, misfortune, sudden ups, and downs, delay and dejection, disappointment and defeat, loss and obstructions, blame, and ill-repute, all are seen from the 8th house.
It also dictates danger from enemies, dowry, unearned wealth, surgeons, medical officers, financial relations with foreign countries, and corruption in the horoscope.
The 9th House in Vedic Astrology
The ninth house represents higher education, father, guru, and pilgrimage. Even the long-distance, faith, divine worship, philosophy, religious and philosophical beliefs, are seen from the 9th house.
Then it governs temples, churches, mosques, pilgrimage to holy places, sacrifices, and charity. Lastly, it rules research, invention, discovery, long- distance journeys, sea voyages, and air travel.
The 10th House in Astrology
The tenth house represents name and fame, success, and status. It also rules power and prestige, respect and reputation, ambition, and authority, in your life.
The 10th house denotes dignity, public esteem, worldly activities, and responsibilities. Also, it represents Karamsthan's employer, judge, superior people. and government authorities.
The 11th House in Astrology
The eleventh house represents gains, social networks, and a friend circle. Even the community, admirers, advisers, well-wishers, and supporters.
The 11th house governs all hopes, wishes, aspirations, and foreign collaborations. Even the elections, litigation, profits, net income, government policies, and planning companies. So results related to all such events are attained through the 11th house.
The 11th house is 6th from the 6th house. This is also called Bhavat Bhavam. So this means the end of the disease. Therefore recovery from ill-health and victory over enemies. Hence this house denotes gains and fortune in your life. Perhaps the most important house to check gains in any aspect of life.
The 12th House in Astrology
The twelfth house represents losses, limitations, waste, and extravagance. It governs the expenses, investments, donations, charity, and associations with philanthropic institutions.
The 12th house dictates separation from family or house away from the birthplace. It rules your fears, inferiority complex, and solitude. These rules secrets, restrictions, the greatest self-sacrifice, conspiracy, exile, and extradition as well.
The confinement in a hospital, success through occult affairs, imprisonment, the comfort of a bed, life in a foreign place, jails, asylums, and reformative institutions all are signified by the 12th house.
If you are interested in a horoscope reading, please visit the Consultations page.
Aries: Spontaneous, resolved and protection
The principle of activity.
The expression of commencement
Keywords associated with this sign include quick, impulsive, dynamic, initiating, energetic, enthusiastic, confident, and pioneering.
Taurus: Processes, Consistent, banking, monotonous work
The principle of stability.
The expression of self-substantiation.
Keywords associated with this sign include: steady, stable, practical, productive, substance-oriented, dependable, thorough, conventional, aesthetic, and sensual
Gemini: Networking and Relationship Management
The principle of versatility.
The expression of communication.
Keywords associated with this sign include: adaptable, dexterous, dual, inventive, intelligent, inquisitive, literary, quick-witted, and sociable.
Cancer: Intuitive, Caring
The principle of dedication.
The expression of emotion
Keywords associated with this sign include: nurturing, devoted, parental, familial, domestic understanding, supportive, receptive, sympathetic, sensitive, and emotional.
Leo: Royal, and Implementation of Authority
The principle of activity.
The expression of commencement
Leo is the sign that represents authority, dominance, egotism, vitality, and creativity.
Virgo: Calculation and Analytics
The principle of stability.
The expression of self-substantiation.
Virgo sign represents perfection, criticality, service, sense for details, practicality. It also gives, the instinct for self-criticism. It is in this house your emotions need discipline in overpowering your lower mind until you manifest in your higher mind.
Libra: Weighing, Worthiness, and Judging
The principle of versatility.
The expression of communication.
Venus is the significator of the 7th house. It is the planet of love, romance, relationship, beauty, and luxury. According to the natural zodiac Libra is the 7th lord. And Libra signifies, balance, harmony, justice, and pleasure.
Scorpio: Hidden Secrets and Mysticism
The principle of dedication.
The expression of emotion
The Scorpio sign in the horoscope indicates secrecy, mysticism, transformation, and pain.
the mysterious, secretive, healing, sexual, evolutionary, regenerative sign Scorpio, the Scorpion.
Sagittarius: Motivating, Goal Setting
The principle of activity.
The expression of commencement
Sagittarius sign in the horoscope represents the setting of goals, the scope of expanding worldwide, higher minds, and spiritual knowledge.
Capricorn: Strategy, Structuring
The principle of stability.
The expression of self-substantiation.
Capricorn is the sign where you need to lay down the foundation, work in a structured and strategic way.
Aquarius: Welfare, Humanity
The principle of versatility.
The expression of communication.
Aquarius is the sign of social welfare, originality, progressive attitude, and have higher goals for the betterment of society and humanity.
Pisces: Quest for meaning, research, worldwide
The principle of dedication.
The expression of emotion
Pisces sign is of research, psychic depth, spirituality, empathy, and self-sacrifice.
Role and Importance of Rahu in Astrology: Rahu is Attention and Obsession and it is the most dreaded planet in the Horoscope Analysis. Rahu in Astrology is capable of showing all those things which in fact don't even exist as it creates Confusion and Illusion.
So what is Rahu in Vedic astrology?
Rahu actually works at two levels the higher level and the lower level. So how do we know about the Rahu in Astrology? Will it give amazing results or give us a miserable time. First of all, you need to understand the meaning of Rahu in Astrology.
Since it does not have its own Rashi in the Zodiac, it does not have a physical body. it's the North node of Moon, it's the dragon's head, and only a shadow.
Significance of Rahu
We all know the mythological story of Samudra Manthan when the Demon Swarbhanu changed its look to take the Nectar, and then his head was cut. So the head became Rahu and the tail became Ketu.
What does Rahu signify in Astrology? Rahu is a discontent incarnate, so it can lie, cheat, betray trust, to achieve its goals. Since it has a Maya-vi nature (illusory), it represents negative thoughts, confusion, and delusion. Where there is confusion there is consequently the problem of committing mistakes in that area of life.
When those mistakes take a more playful mode, we utterly call them a learning experience, when they take a more severe form we are called to pay a heavier price. Its nature in this lower level covers all the negative points of the dark side of the human psyche.
Rahu Dosha
Therefore it is the originator of suspicious illegal actions, morbid fears, corruption, and self-destructive tendencies. This is the reason it is also called Rahu Dosha in Astrology.
Rahu when serving at higher levels promotes heightened awareness of more important fields, an inclination to know the truth of life. In fact, it depends on the purpose of life, like if you have a strong desire for innovations, writings, new technology, or even in the entertainment industry. The most important factor is your approach to attain things. If you follow rules laid by saturn, then saturn the planet of justice, will support you in its time.
This also makes a person withdraw from material goals and advance towards the original source (The Supreme Soul). But if you take the wrong track and fall prey to a weak mind. Then same Saturn will give you fame and fulfill your wishes but at one time in life, it has to teach you a lesson, as that's what Saturn does.
If you are interested in a horoscope reading, please visit the Consultations page.
Rahu acts like Saturn
Since Rahu does not have a physical body and no Rashi of its own. It actually behaves like the planet it is posited with or the Rashi lord and nakshatra lord. Also, it behaves as saturn, therefore it gives the lordship of the Aquarius sign. Like saturn, Rahu also has a lazy disposition and is a long-term planner.
Rahu's position in the chart, represents the element of fake confidence, an untrue sense of perception and tasting, and when the person is immature or not self-aware of its hazards it can create a breeding ground for arrogance and misconception in relation to the significations of that Bhava. This way I have explained the meaning and influence of Rahu in Astrology.
The significance of Rahu in Astrology in all 12 houses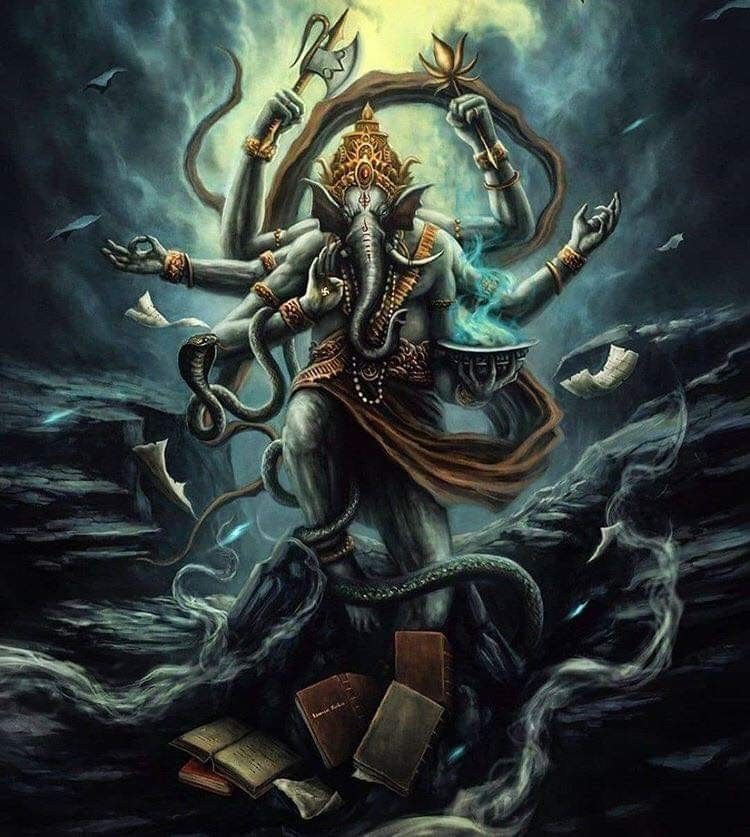 Ketu in Vedic Astrology: Ketu represents the proficiency that we have perfected over a series of incarnations. Therefore it comes easily to us in the present life.
This is the reason that there is always a sort of passion and magic streak. And it is attached to the Ketu position in a chart. Hence such an area in your chart, where lies frustration and also where you are most vulnerable.
Ketu is the South Node of the moon. The main symbols associated with Ketu are – a Flag fitted to a pole, a mace, an arrow, and the Swastika. Let's consider the relationship with other planets
Friends with mars and Jupiter
It is neutral towards saturn, Mercury, and Venus.
And is the enemy of the Sun and moon.
Rahu is the planet of worldly desires, then Ketu is the planet of spirituality, intense concentration, and deep perception. However, Ketu represents inertia, which resists change due to strong attachments to the past.
If you have the curiosity to know more about the mystic Ketu in your chart, then read this article till the end.
What is Ketu in Astrology
Ketu can cause people to act in a perverted, unreasonable manner as the goals of Ketu are complex and probably hidden. In addition, Ketu connects chaos, disorder, surprises, and strangeness.
Because it is also the planet of intuitive awareness and such states that do not have rational perception. A person strongly influenced by Ketu always feels connected to some higher force. And this divine guidance awakens his intuitive faculties.
Ketu works at higher and lower principles. As we know about the mythological story where Ketu was a headless body.
Because it does not have a physical body, it takes the energies of the sign it is placed on or the planets associated with it. You can check the position of Ketu in your own chart and see what unknown aspects of Ketu has in store for you.
Nature of Ketu: Mysticism
Ketu governs all sorts of esoteric knowledge, like magic, occult, alchemy, hypnotism, and telepathy. It represents psychics, tarot card readers, past life regression, and similar other professions.
This mystic planet is also related to the Indian section known as "Aghoras"
They prefer to stay in cemeteries and have a different approach to attain knowledge and get liberated.
When Ketu is actually creating problems
Presently understand the terms irrationality, awe-inspiring, majestic, and erratic. Hence all that is attributed to the sixth sense is actually related to Ketu.
Ketu's irrationality can make a person turn into a merciless person like Hitler. Here its role was to torture enemy soldiers in the name of war and patriotism. It can also give a strong liking towards black magic and other unwholesome occult practices.
Strong Influence
In places like cemeteries, graveyards, and burial grounds. In fact, Ketu is the significator of any such place or structure which has a mystery attached to it.
According to my observation, birth charts with Ketu in the 8th house and 10th house or any PAC (posited aspect, conjunct), such people have a strong inclination in either learning about the secret world, or their work is related to the mysterious world.
Weak Ketu in Vedic Astrology
A weak Ketu leads to monetary losses and also the deterioration of job possibilities. Loss of father's and husband's wealth is a definite indication of an unfavorable Ketu. Diseases like urinary tract infections or joint pains are due to the adverse effects of an unfavorable Ketu.
According to Lal Kitab, Ketu represents male progeny. Therefore if Ketu is afflicted it either gives no male child or issues related to them.
The unconsciousness attached with Ketu can give birth to fears, suspicion, superstition, sadism, and other dark realms. Also the phenomenon of ghosts which are none other than the etheric bodies hovering around the places, they were once attached to in their human incarnation.
Strong Ketu in Vedic Astrology
Ketu in Vedic Astrology gives Inner Wisdom. When Ketu is strong and working through higher principles, it can elevate the mind to a state where one has access to the secrets related to the functioning of the Creation.
The higher level Ketu carries all the good qualities of Jupiter like prosperity, fortune, harmony, ethics, inner wisdom, creativity, and spiritual beneficence. Consequently here it is giving the results of good karmas from past lives.
In another aspect, Ketu makes individuals like Mother Teresa, who believed only in selfless service. In such a case, Ketu has a deep connection with Jupiter.
So if you have a strong Ketu or benefic aspect on Ketu then it will act like powerful Jupiter with higher goals. Moreover, such people definitely work selflessly, with no interest in material gains. Read the complete article on Ketu.
In Vedic Astrology, Parashar Maharishi has given a marvelous tool to determine the timing of an event called Vimshottari Dasha. This Dasha system is calculated on the basis of moon nakshatras. The degree of the moon at the time of birth determines the beginning of your Maha Dasha period.
Like if a person is born with a 28 degrees moon in Taurus. This will be in Mrigshira nakshatra. which means, the Dasha sequence will begin from mars, followed by Rahu, Jupiter, saturn, Mercury, Ketu, Venus, Sun, and moon.
A specific time period is designated to all 9 planets in this method. There is a full cycle of 120 years for Mahadashas of all nine planets. This cycle has been divided into 9 parts and every part is governed by planets.
Maharishi, Parashar has assumed the life span of a human up to 120 years. This will give the person a chance to experience 5 – 6 planet dasha.
Details of Vimshottari Dasha
Vimshottari Mahadasha Time line
How to check Mahadasha and Antardasha
The birth time dasha is determined by the moon's degree. So it is best if one starts analyzing the chart with the birth time dasha period. This will show the sequence of events right from the beginning. As even the birth time dasha gives certain insights about the person.
Vimshottari Dasha in Astrology
The Mahadasha in Astrology is the most significant medium, to interpret the major events of Life. Next, you have to count the number of years allotted to each planet. Let's take the example of shani Mahadasha which is of 19 years.
Let's understand with the MD AD with the example
Maha Dasha in Vedic Astrology
In the above Vimshottari Dasha details, we see that it is Jupiter Mahadasha and Rahu Antar dasha, moon Pratyantar, Venus Suksham, and Mercury Pran dasha.
Here you have to remember that Mahadasha will set the trend as per its significance, and major life events related to its position, lordship, and PAC. So if Jupiter's time period, is going the person's life will revolve around Jupiter's significations.
Antar Dasha in Astrology
The Antardasha, planet follows the order of the Mahadasha planet. For instance, if MD planet shows a good time for a career. To get the best results, it becomes very important that AD also shows favorable combinations for a career. And if AD denies, then the event is delayed. Therefore it is only Antar dasha whose results are mainly notified.
Pratyantar Dasha in Astrology
Pratyantar Dasha follows the commands of minister Antar dasha. This is just like a soldier, who cannot take major decisions because he is bound by the higher authorities. But not to forget it is only Pratantar dasha that will finalize the event. So if you have to check the day-to-day activities, then Pratyantar dasha time is considered.
Hence if you have to analyze the chart, focus on MD, and its significance. Like here if Jupiter, then Jupiter is the karaka of wealth, children, and wisdom. And considering the house significator, Jupiter will give its effects.
Similarly, the Antar dasha planet in the example chart is of Rahu. So if you have a query related to career, the main planet you have to consider is Rahu, followed by Moon. More on Mahadasha, click here.
If you are interested in a horoscope reading, please visit the Consultations page.
The 1st House in Astrology: The 1st House is known as Ascendant or Lagna in Astrology. The Lagna or first house is determined according to the degree of the sign that is rising at the exact time of birth, anywhere on earth. The Lagna changes every two hours. Therefore the degree of the first house is really significant as this decides the star lord.
The Lagna star lord and its signification have great influence. Like if it's the Leo sign and Magha nakshatra then the person has done a lot of good karmas in a previous life, due to which in this birth he will rule on others sitting on the throne.
The 1st house in Astrology represents
The physical appearance, self-identity, temperament or Swabhav, and your physical health. It also describes the bodily appearances, facial peculiarities, and sex appeal of the person.
Therefore this house answers all your questions related to self, like who are you, what is your basic drive, what are your primary tendencies, your likes, and dislikes, what is the purpose of your life, your passion, and inclinations.
Let me explain how to analyze the strength and weaknesses of the 1st house. (1st house Astrology)
Aspects of planets in Astrology: In Vedic Astrology, a horoscope is analyzed, studying the planet's position, and then the planets conjunct and aspecting. If you have to read a birth chart, one single planet cannot fructify the event. So this is called Yukti Sambandh (Conjunction) and Dhristi Sambandh (Aspects). As the planets here involved will add to the results of the event.
Conjunction of Planets in Vedic Astrology
When two or more planets are in the same house, they are called planets conjunct. So this means that these planets will work as partners for that house or the house lordship they have. But here degrees are important. As if within 5-7 degrees then only the conjunction gives actual results.
Step by Step Analysis
If two planets are conjunct, you have to see the relationship between those planets. If two enemies are conjunct like Sun and Saturn, then it creates dispute or discomfort related to the events of that house.
But if two friendly planets are conjunct, like Moon and Mars, these two work as a union to assist that house results. This also creates a Rajyoga, which gives comfort and luxury in its dasha period.
If between two planets one is inimical, the other is friendly, then the inimical planet is weak to give results. As in this case, the houses owned by that weak planet are affected. Similarly, if Mars and Mercury are conjunct, then Mars is inimical to Mercury. Thus Mercury and its houses are not affected. But Mars house, Aries and Scorpio, are affected. Here other planet combinations are also important.
Aspect of Planets in Vedic Astrology
In Vedic Astrology, planetary aspects play a significant role. Now all planets have been given the 7th aspect. But Mars, Jupiter, and Saturn have been given special aspects. However, the most important point to remember is malefic planets like Saturn and Mars add stress, pressure, fear, and hurdles to the house effects and the benefic planets aspect add comfort and satisfaction to the house effects.
To learn more about planetary aspects
1st House Lord in 1st House in Astrology: In Vedic Astrology, there are 12 houses, 9 planets, and 12 zodiac signs. So if you have to analyze a horoscope for yourself or others, it's important to understand the basic nature of all planets, the significance of houses and then the influence of 12 signs. Alright, I will walk you through the journey of 1st house lord in 12 different houses. Let's start with the results of the 1st house lord in the 1st house itself.
1st House in Vedic Astrology
1st house in the Horoscope is the rising sign at the time of your birth. The 1st house represents the physical appearance, facial features, and sex appeal of the person. Now this answers all your questions related to self, like who are you, what is your basic drive, and what are your primary tendencies. This explains your likes, and dislikes, and what is the purpose of your life. Above all your passion, inclinations, physical and mental health, and even personality are shown by 1st house.
1st House Lord or Lagna Lord in Vedic Astrology
The 1st house lord defines your purpose in life and your basic inclination in life. Lagna lord and planets in Lagna have the power to influence you. Regardless, where ever Lagna lord is placed it improves the results of that house.
Important Combinations for Marriage Predictions
In addition, whether there is marriage promised or not in your horoscope just check the following positions:
The Position of Lagna lord
Position of Moon
The position of 7th lord
Position of Venus
Position of Jupiter in female chart
Planets in the 7th house
Principles in Vedic Astrology for Marriage
When there is any malefic aspect in the 7th house and 7th lord then the marriage is in trouble.
See if there is no Benefic aspect on 7th house and 7th lord then the marriage is in trouble
Note the 7th lord is posited in 6th, 8th, 12th house then the marriage is in trouble.
Next if the 7th lord is posited with malefic or enemy planets like Sun, saturn, mars, Rahu, or Ketu then also the marriage is in trouble.
Note if there is a malefic planet placed in the 7th house then also the marriage is in trouble.
If the 7th lord is in Sun, Rahu, saturn, and Ketu nakshatra then marriage is in trouble.
If the karaka Jupiter in female chart and Venus in the male chart has malefic PAC[position, aspect, conjunction] then marriage in trouble.
Most Important Points
See if all the above combinations are present then there is No Marriage in the horoscope.
If there are 3 combinations present then there is Disturbed Relationship.
If there are only 2 combinations then there is a Delay in marriage.
Love Astrology: Are you in love or a relationship? Or are you waiting for the day you will get into a relationship? What is the reason for your break-ups? So if you have similar queries troubling you, then read this article till the end. As I will be sharing some astrological combinations in your horoscope, that reveal the real picture.
Vedic Wisdom: Love Astrology
So let's start with what does love and relationship actually mean to you. As every person has a different viewpoint. Bhagwat Gita says Gunas are only communicating. Now let me give you a quick reference about three Gunas – Satwa, Rajas, and Tamas. These Gunas are made as per your dominating element – Fire, Air, and Water. Therefore based on the characteristics, one makes decisions.
The 3 Gunas
Now if a Tamsic person falls in love or a relationship, he will be possessive, very emotional, and also will demand more care, affection, and even an intimate relationship.
If a Satwic person falls in love, his love will demand more mental compatibility. He believes in only giving love and care, and no expectations in return. This person will be loyal, truthful, and trustworthy.
And Rajsic person will be more demanding, short-tempered, and aggressive. He will be more selfish, and workaholic.
Now if you are into a relationship, then you need to see the basic traits of a person. As Gunas will remain the same from birth to death. And then expect as per its Guna, from your partner as out of guna one cannot behave. Ideally, there should balance of three Gunas. You can read Bhagwat Geeta for more clarity on this topic.
How to Check Love Life in Vedic Astrology
While analyzing a horoscope, to check love and relationship, we have to consider the following love agents:
Check Lagna, sign, and its nakshatra: This signifies your likes, dislikes, decision making, appearance, and personality.
Moon sign, position, and its nakshatra: It states the sensitivity, passion, and emotional state of mind.
The 5th house sign, planets posited, and its nakshatras: The 5th house signifies love affairs, entertainment, fun, and enjoyment, and courtship.
The position of Venus: This represents love, compatibility, and romanticism.
The 7th house, sign, planets posited and its nakshatra: This represents marriage and relationship.
The 3rd, 7th, and 11th lords if related and well posited, then will convert the relationship into marriage.
The ongoing Dasha period: The planets of running Dasha give lifestyle as per its basic traits.
Signs and Planets: Love Astrology
Now the most romantic and sexually active signs are Gemini and Scorpio. So if the Lagna, moon, 5th house, and Venus have any association with these hot signs, then it increases the probability of getting into a relationship.
The Gemini sign in your horoscope states your conscious mind anxieties, your curiosity, and blossom time. If in a relationship with the above-mentioned love agents. Then since they are fond of talking, singing, merry-making, and networking, they jump into a relationship very fast.
The Scorpio sign position in your chart, states your secrets, emotions, and deep involvements. So if related with the moon, Lagna, Venus, and 5th house then a secret love relationship probability increases. It can also get you involved physically.
The position of moon and Venus, (PAC), Rashi and Nakshatra lord position states the perception of Love and relationship in your life.
Learn more about Love Astrology
If you are interested in a horoscope reading, please visit the Consultations page.

Career Astrology: A career is the most important aspect of our life. Astrology is a predictive science and the combination of planets gives a lot of options in career selection.
I personally believe that if one gets guidance at the right time, then a lot of time money, and energy can be saved. It is important for students to get the right guidance about their inclinations that give complete clarity of the subjects they had to pursue. In this way, Astrology can help in selecting a suitable career.
Click here for more information on Career Astrology
Role of Education: Career Astrology
Before analyzing a career, the most important aspect is education or skill, and then the experience a person has acquired. A profession can be pursued only if you have a strong educational background in a related subject or have relevant experience in your creative field.
The first crucial factor is confusion about the inclinations, secondly the quality of your efforts, and lastly your values and principles. This can be analyzed with Triguna composition which is formed at the time of birth and stays the same till the last breath.
What is Triguna
Bhagwat Gita says every human being, when born has a fixed set of compositions that includes Satav Guna, Rajas Guna, and Tamas Guna.
The purpose of Horoscope analysis is to highlight the skill and purpose of one's life, determination, mental strength, and expertise. And at the same time give solutions for shortcomings and low confidence.
All these attributes can be checked, but it requires complete information on the subject, good intuitive skills, and vast experience. I will explain all the relevant topics of Astrology in the selection of your career. Read the complete article here.
Education in Vedic Astrology: The main goal of today's generation is to attain such an education that can emerge in a successful career. Consequently right from childhood, anxiety starts forming. The majority of students are equipped to work laboriously, and the competitive spirit or the spark to accomplish is instilled.
"Education is not the learning of facts but the training of the mind to think"
However, the problem arises when students lose passion for the subject or have no certainty for the future. They are studying because everyone is getting lucrative jobs after a precise education. Unfortunately, there are students, who struggle for jobs or a stable career even after acquiring a comprehensive education. Then what goes wrong, that even after attaining specific qualifications some individuals do so well whereas others struggle a lot.
The problem is the need for awareness of one's interests and inclinations. At this point, I have witnessed that some people are fully assured of their passion and shortly convert passion to the profession but some require direction.
Education and Vedic Knowledge
According to Vedic knowledge, every individual on this earth is born with a fixed composition of 3 Gunas, Satav, Rajas, and Tamas. Based on the Gunas, your inclinations, choices, and work is determined. The Satav Guna person will be more into gaining knowledge, Rajas will have the drive to accomplish more, and Tamas person will be emotional and possessive. Therefore based on this Vedic Knowledge, you can choose your education stream.
But how to check this Guna? Here an Astrologer, advises favorable subjects, through this Vedic Knowledge and your planetary combinations and significations. Besides, this will sequentially take you towards a fruitful profession. Now let me explain the role of planets in taking the best study course.
Planets and Education in Vedic Astrology
While analyzing a horoscope for Education, the most influential planets are Jupiter and Mercury. Plus the planets in the 4th house and 5th house, their lords, D-9 the Navamsha chart for planetary strength, and D-24 for higher and profitable education.
Health plays a significant role in our lives, though this is the field of medical doctors, they do the treatment but Astrology has also such information which can be actually useful for everyone.
Hence, I will share very important details on Medical Astrology. As you know there are twelve signs, nine planets, twelve houses, and twenty-seven nakshatras in Astrology. And then there are five elements in our bodies water, air, fire, earth, and space. All these collectively play a significant role in diagnosing diseases in our Horoscope.
According to Ayurveda, there are Tri-Doshas in our body Vatt, Pitt, and Kapha. The imbalance of these doshas causes disease in our bodies. For Health analysis, you need complete details about Diseases signified by all zodiac signs, houses, planets, nakshatras, elements, and Tri-doshas. So let's start with Diseases signified by all Twelve Houses.
Diseases Signified by Twelve Houses in Vedic Astrology
The house signifies the area or region of diseases
First House – Sixth House
First House: The 1st house represents your Head, brain, hair, appearance, skin, vitality, general well-being, and longevity.
Second House: The 2nd house tells about your Face, right eye, teeth, tongue, oral cavity, nose, speech, and Throat.
Third House: The 3rd house rules your Ears, [ right ear ], neck, shoulders, the upper part of the esophagus, collar bone, arms, hands, windpipe, and physical fitness.
Fourth House: The 4th house represents your Chest, lungs, heart, Breasts, and Diaphragm.
Fifth House: The 5th house rules your Stomach, liver, heart, gall bladder, spleen, pancreas, Duodenum, mind, thinking process, and pregnancy.
Sixth House: The 6th house tells about your Small intestine, appendix, part of the large intestine, kidney, Tuberculosis, wounds, injury, operations, tumors, eruptive disease, mental agony, madness, poison, and peptic ulcers.
Seventh House – Twelfth House
Seventh House: The 7th house rules your Urinary tract, sexual organs, uterus, ovaries, testes, prostate glands, rectum, semen, and broad ligaments.
Eighth House: The 8th house represents your External genital organs, chronic disease, anus, and perineum.
Ninth House: The 9th house covers the organs like the Hips, thighs, and femoral arteries.
Tenth House: The 10th house rules your Knee joints, knee cap, and the hollow behind the knee joint.
Eleventh House: The 11th house represents your Left ear, calves, ankles, and lower legs.
Twelfth House: The 12th house covers organs like Feet, left eye, mental issues, disturbed sleep, and crippled limbs.
Therefore you should know which house signifies what disease, now try to memorize them as towards the end of this blog you should have complete information, about all signs planets, and houses if you really wish to locate a disease accurately in our horoscope.
Read complete article on Health
Transit in Astrology: Use in Horoscope
In Horoscope Analysis Transit position of planets is the most important lesson. Planets are heavenly bodies that revolve around the Sun in a particular path called the orbit. Now, this orbit is oval in shape all the planets are at different distances from the Sun.
Speed of Planets
Each planet takes a different length of time to revolve once. The Moon takes around 2.4 days as this is the fastest moving planet, Sun takes 1 month as every month it covers 1 degree in the 30-degree sign. Then the planet mercury takes around 28 days, Venus also takes around 28 days. Mars takes around 45 days, Jupiter takes around 1 year or 13 months and lastly, Saturn takes 2.5 years, as this is the slowest moving planet in the natural zodiac.
Now Saturn, Mars, Jupiter, Venus, and Mercury go retrograde, this means they appear to move in a backward direction. They just seem to be moving backward. The reason is when a planet goes far from the sun it will be retrograde. Retrograde planets give powerful effects and planets when going back to the previous degree, make you redo certain things.
Rahu and Ketu are the mathematical points and Rahu is the North Node of the Moon and Ketu is the South Node of the Moon. These are visible only at times of the solar and lunar eclipse. The nodes Rahu Ketu changes its signs after 18 months.
Use of Transit Planets to Predict Events
There are many ways to use the position of transit planets for day-to-day activities. But I will share the easiest way to understand and then use transit planets in the horoscope. Always remember, that planets like Jupiter, Saturn, Rahu, and Ketu, these change after a long time. So generally these planets become the reason for pain.
So open your birth chart, and place all the transit planets, considering the present position. For this, you can take the help of astrology software. For instance, if you are Aries Lagna, place all the planets like this…
Here we see the current position of all planets along with the natal chart planetary position. So let's follow a query related to the job. Whenever a query is related to the job, then we have to focus on the 2nd house, 6th house, and 10th house mainly. Now focus on the current position of planets. Always start with Saturn, as this stays in one sign for 2.5 years, and since it is the karaka of delay, disappointment, and disease.
Predict the Event
In the above chart, we see Saturn posited in the 10th house, along with Retrograde Mercury, which is the 3rd and 6th lord, and 5th lord Sun. Then see the position of Rahu in the 2nd house, on the natal Saturn. And Jupiter is in the 11th house on the natal Mercury and Venus. Now through these planetary positions only, we can answer a query related to the job.
Here the query was related to the strain at the workplace. So the stress is always built by Rahu and Saturn, the natural malefic planets. And their position on Artha bhava states that a lot of responsibilities at the workplace have caused anxiety issues.
Note the change of Transit Planets
Therefore till these planets change their position, the person will not be able to come off the work pressure. But as mercury will come to a direct position, things will be eased. And Saturn's position will change on 29th April 2022, and Rahu's position will change on 12th April 2022.
To get information on the transit position I would recommend to check this website https://www.drikpanchang.com/
Here, first, learn about planets and houses that cause a disturbance. So always follow the query and select a group of planets and houses, this is combinations. You should have complete knowledge of favourable and unfavourable combinations. Then only you will be able to predict any event and guide your dear one.
Conclusion
According to Hindu teachings, the only purpose of life is spiritual development. This evolution is, in part, boosted by karma, the concept that we get fruits of the deeds, performed in this life. In my view it is best if one takes Astrology for higher goals, to get a better understanding of the position of planets. The position of planets is due to our own past life Karmas. So definitely due to pending karmas, we get such planetary alignment. So don't try to change destiny, in fact, understand the hidden message, and live life as per the planet's position. This is Freewill.
Try to understand the significance of each planet, house, sign, and then the nakshatras. Because the horoscope gives results in totality.
I would suggest my readers concentrate on higher goals, and then analyze horoscopes each step by step. Read one lesson every day and then practice in at least 5 birth charts. And too much information, only stored and not utilized, eventually increases Tamas Guna. Therefore my goal in sharing this information, which includes my research, and experience is that readers should get complete knowledge in minimum time. And then invest more time in utilizing the learned formulas.