KP Astrology and Career: A Career or profession holds paramount significance in one's life, as it plays a pivotal role in determining their karma kshetra or field of action. However, I firmly believe that before delving into a detailed analysis of a birth chart for one's career prospects, it is essential to thoroughly assess their foundational knowledge and educational background. It is from this bedrock of skills and expertise that individuals derive their career choices, invest diligent efforts, reap profits, and eventually accumulate wealth. Therefore, today, I will provide insights into Level-1 Career Analysis as per KP Astrology.
Main Rules of KP Astrology
The 12H to any house will negate the event.
The 2H to any house will increase the effects related to that house.
The planet is the main source.
The Star-lord gives the result.
The Sub lord states the quality of the result.
If the star lord denies and sub lord supports, then there will be a delay in the event, but if the sub lord denies and the star lord supports, then it is inadequate to give results.
The dasha sequence is very important in horoscope analysis. Check this blog to get details on the timeline in KP Astrology.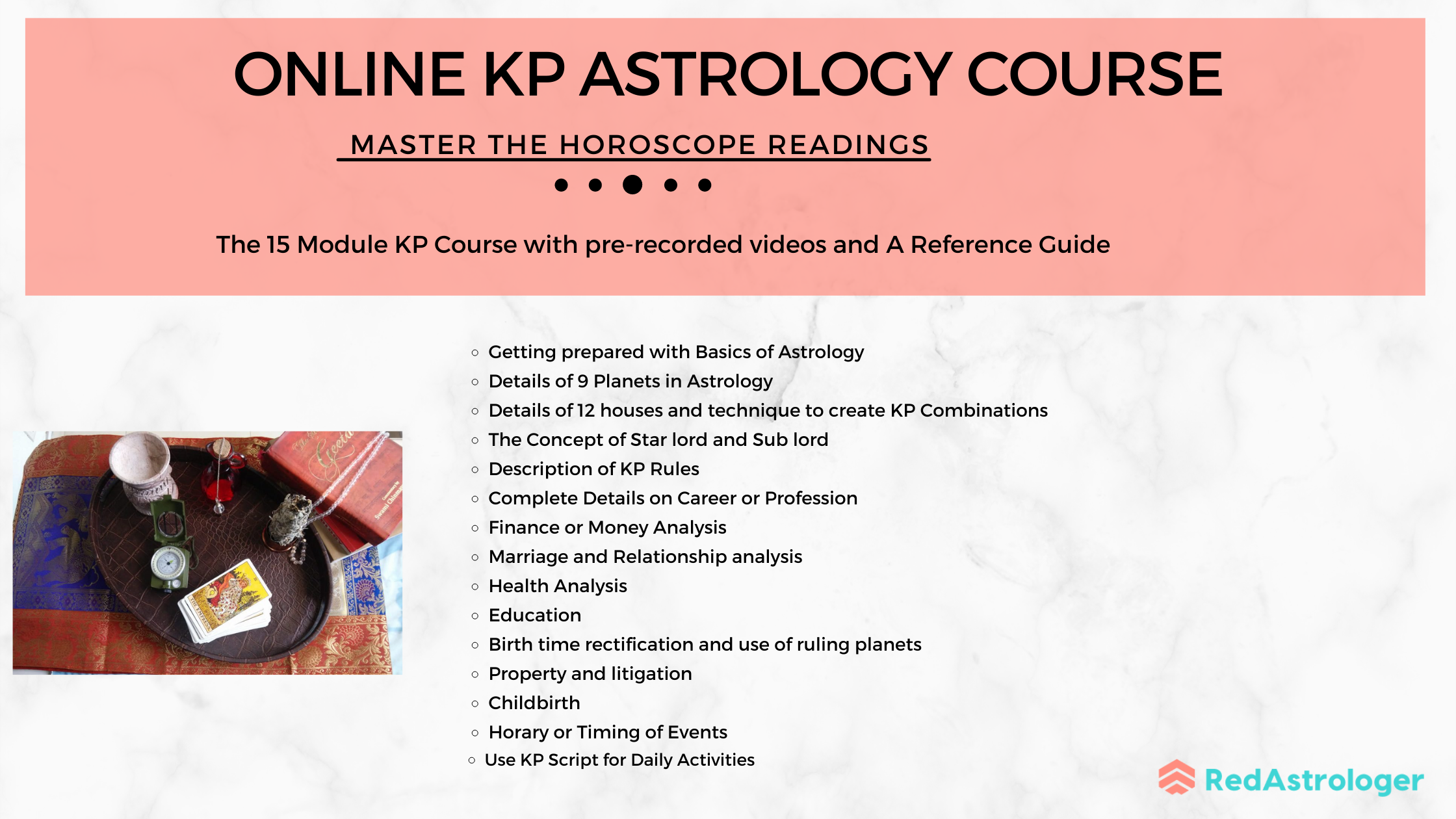 KP Astrology: Favorable Combinations for Career
2 6 7 10 11 – Best Career Script
The 2nd house (2H) represents accumulated wealth, making it a positive factor for one's career.
The 6th house (6H) relates to service and jobs, making it a favorable house for career prospects.
The 7th house (7H) is associated with business and partnerships, indicating potential career opportunities in these areas.
The 10th house (10H) signifies status, name, fame, and recognition, making it a crucial house for career success.
The 11th house (11H) represents gains, profits, and the fulfillment of desires, suggesting a promising career path.
Unfavorable Combinations for Career
The 5th house (5H) is considered unfavorable as it is the 12th from the 6th house, that represents service. This placement can lead to challenges in one's career.
The 8th house (8H) can bring hurdles and challenges, This is also the 2nd house from the 7th house, which is favorable for competitors or opponents.
The 12th house (12H) is associated with losses, disappointments, and endings, making it an adverse factor for one's career.
If the 1st house (1H), 3rd house (3H), 5th house (5H), and 9th house (9H) combine with the 8th or 12th house, they can present problems and obstacles to one's career journey.
KP Astrology: 12 Houses Significance
Check the 10th house cuspal sub lord and its star lord
1st House: Self-employment, and decision-maker.
2nd House: Banking, accountants
3rd House: Communications, sales, advertising, marketing, and social media.
4th House: Home, buildings, real estate
5th House: Politics, entertainment, creativity
6th House: Daily service, Military, police, law, and health-related profession
7th House: Business, and trade
8th House: Insurance, multinational company, contract job
9th House: Teaching, social service, consultations
10th House: Administration, status, Govt jobs, and public dealing
11h: Gains through the outside world, and friends' circle
12h: Foreign travels or links, social work, hospitals, and prisons, or a lot of distractions in the profession.
You should have complete knowledge about the significance of the planets.
For complete details, you can read about planets and their profession.
A high-profile Career involves special skills, passion, and dedication. Read the complete article.
Case Study for Career
I will simplify these combinations with the help of an example chart
Read like this…
In the provided chart, the 10th house cusp sublord is Rahu, positioned in the 5th house, and it serves as its own significator. (It's important to mention that when a planet is not present at the star lord level in the horoscope, we consider it as a star lord whenever it appears as a planet or sub-lord.)
The Star-Lord for the 10th house is Ketu, and it is positioned in the 11th house.
The sub-lord in this case is the Moon, also serving as a self-significator.
Examining this horoscope, we observe the presence of favorable combinations, but there is also the involvement of the 5th house (5H), 8th house (8H), and 12th house (12H). This suggests that if the dasha (planetary period) of unfavorable combinations becomes active, the individual may encounter challenges in their job or career.
As fate would have it, this person did indeed lose their job in January 2020, owing to the impact of the pandemic. However, there was a silver lining as they managed to secure a new job in 2021.
Job Description
The sub-lord Rahu, along with the coordinates signified by Rahu and Ketu, plays a crucial role in defining the job description. Rahu, in association with the 9th and 12th houses, indicates a connection to foreign affairs or foreign entities.
Ketu's placement in the 5th house signifies intelligence, creativity, and the ability to provide innovative solutions. Ketu also brings an element of reality, truth, secret knowledge, and a penchant for research work.
Conclusion
In this individual's case, he is employed in a multinational corporation (MNC) where his role involves providing innovative solutions that significantly contribute to the company's growth and expansion. It is worth noting that the specific job one holds can be determined by assessing the available options in the birth chart and understanding how planetary positions and houses influence career choices.