KP Astrology is the most accurate predictive technique to read horoscopes. This is the discovery of Mr. Krishnamurti Subramaniam, therefore it is called Krishna Murti Padhati. The only way to understand KP astrology is to practice birth charts.
FREE cheatsheet for KP Combinations in Astrology
Subscribe to newsletter and download the cheatsheet PDF.
In this article, I am sharing the most powerful method to practice KP Astrology daily. So if you want to learn KP Astrology Combinations, mark the Moon nakshatra of that day, you are reading this article, and learn the technique. For example, today is Ketu Nakshatra – Magha Nakshatra. Check the Ketu script in your horoscope.
According to KP, the Planet gives details about the origin of a particular event, Star-lord tells about the main result and the sub-lord decides the outcome of the life event. If the star lord negates an event then the sub-lord will either delay or deny the event. The Star-lord and Sub lord are most important to determine the main outcome of any Life Event.
KP Astrology Combinations: Moon Nakshatra
The position and degree of the planet Moon play a significant role in your horoscope. Because at the time of birth, the Vimshottari dasha sequence begins based on the Moon sign and its degree. For example in the figure below check Moon's position at birth time, here you will see Moon is in Sagittarius sign – 12 degrees 41 minutes.
This shows Ketu nakshatra, mercury sub-lord, and Rahu sub sub lord. So the dasha sequence began with Ketu MD, Mercury AD, and Rahu PD. (the natal position)
This timeline is decided by Moon's degree in the horoscope. Moon represents your subconscious mind, feelings, thought patterns, memory, and emotions. Whenever any event occurs in life, it starts with a thought, that further evolves into an idea, then you organize and perform as per that concept.
Moon is the fastest moving planet, it changes its sign after 2.5 days. In the figure above(the current position of planets) Moon is in the Cancer sign, Saturn nakshatra, and Venus sub-lord.
How to make the Best of Moon Nakshatra
As you can see in above figure 1- Moon is in the Cancer sign, here 3 stars are included Punarvasu – Jupiter, Pushya – Saturn, and Ashlesha – Mercury.
Remember – Moon, travels one star in one day(approx), and the sub-lord changes very fast. (as per time allotted to the planet in Vimshottari dasha)
Position of Moon…
Planet – Cancer
Star – Saturn
Sub lord Venus(at a particular time)
Now for one day, the Saturn script will work as per the horoscope shared above. Saturn's complete script will highlight the events of that day. Here you should check the self-significators and cusp script as well to get more options.
Once you begin to see combinations working in everyday life, you will surely gain confidence in your KP learnings.
How to read the KP Astrology script
Before reading the Moon star script through KP, it is very important to understand KP rules.
Saturn script
Saturn 2 6 7
Mars 4 9 11
Moon 4 12
Venus script
Venus 3 10 12
Ketu 3 4 5 8 9 11
Mercury 1 2 11
Today's Plan or Intent
Setting goal is extremely important if one is highly ambitious. When your goal is decided, you work to accomplish your goal in a particular time frame with the best resources. Here KP Astrology is helpful.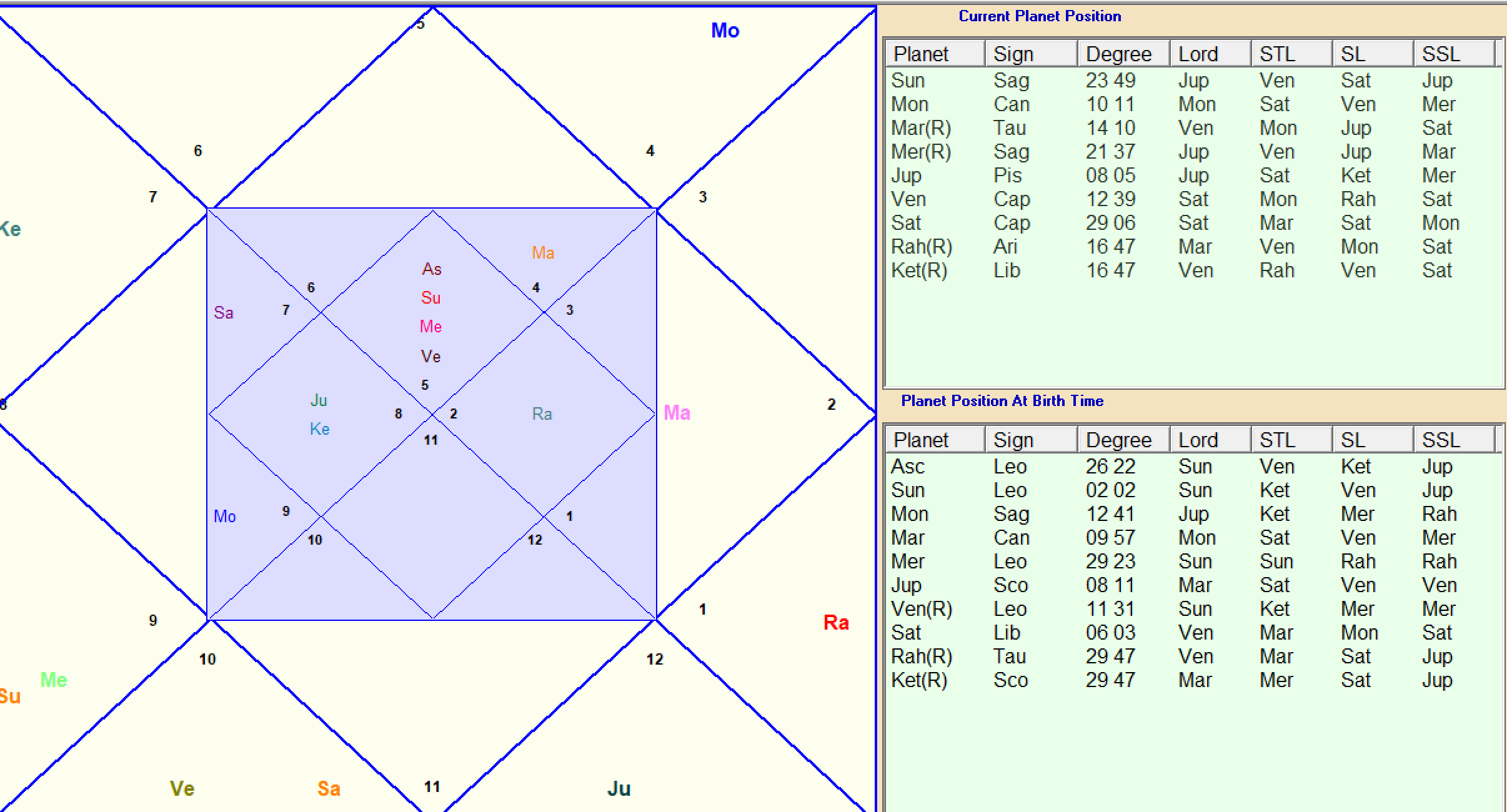 As you can see in the figure above transit Moon is in the 12th house. We see Moon in Saturn star, Venus sub, and Mercury sub sub lord. Remember the sub-lord changes very fast.
So if one has to finalize time for a certain event – Should I give token money for my new apartment? Or should I buy a new car – will it be fine as per my horoscope? Here you can check the Moon script.
For property or car, we need 4 9 11, and 12 in the script. Once the star lord gives favorable combinations, check the Sub lord to fix the timeline for the occasion.
Like if the sub lord shows 8 12, then things will be blocked, and it can be a waste of energy, as the 12th house is involved, the 8th house states a lot of obstacles and frustrations will be faced.
Freewill – Once you know that 8 12 combinations are working on a particular day, then you can use the best of 8th house things like research in your work area, learn new topics about any hidden knowledge, or transform certain areas of your life. This is to minimize negative aspects of the 8th house like sudden obstruction in work or pain in the body.
Similarly regarding the 12th house, use Meditation, Charity, and Yoga plus add let go and sacrifice on that particular day. This way you can minimize negative aspects of the 12th house like losses, disappointment, or expenses.
The best attribute of the 12th house is solitude, actually, it's a journey that begins with loneliness and ends in solitude. Here you realize something amazing—when you develop the habit of clear thinking, you automatically develop intuitive thinking. Intuitive thinking is the highest form of productivity. It allows you to foresee the future.
Read the Moon script like this
Take another example – If the transit Moon is in the Virgo sign and Swati nakshatra – Rahu
So as we are discussing Rahu nakshatra day for this person, the Rahu script is involving 8 12 houses
Rahu is the self-significator in this chart. So that means pain and weakness will be there But for how long? This sub-lord will decide.
Note down these planets
Mercury – sign lord
Sun – star lord
Venus – sub lord (Time – 17 December 2022 at 7:34 am.)
Now read the Sun script here, and after 2 hrs Moon star lord and the sub-lord period started.
Sun 1 12
Ketu 3 4 5 8 9 11
Venus 3 10 12
Here we see 1 8 12 plus badhak. (9th house is badhak for fixed sign lagna)So health issues can be faced. Now you should know about the significance of each house and planet and also understand the area of concern. Then only you'll be able to pick the right keywords.
The Everyday Moon Nakshatra is best to get direction for the daily events. For major life events MD AD will be seen. Moon star will only fructify that event which PD planet had to deliver after the MD AD approval.
Ketu signifies pain and detachment. Ketu (carry-on planets) Mars Jupiter plus 3rd house. Ketu's involvement states separation from home 3H, pain and indigestion 8H, and sub-lord Venus – 3 10 12 supports the pain. So this 10-12 combination supported ill health.
KP Astrology Combinations: Next Star Lord script
It is very important to see the upcoming star lord script. This helps in selecting a favorable time for any event. As in the case above, when the moon star lord period started, again Ketu script got active but the sub lord supported good health 2 11. Therefore in the moon star, he started recovering.
Moon 4 12
Ketu 3 4 5 8 9 11
Mercury 1 2 11
Mainly nakshatra script works as the sub lord changes very fast, so if you are expecting a certain event like a job interview or want to make some good investment.
Then the nakshatra script can be really helpful. You just have to see if your moon nakshatra script supports your plan of the day, then see the most favorable sub-lord and fix the timeline for the best results.
This technique can be used in any life event – it can help to finalize your travel date. Muhurta or auspicious time for a Car purchase, office inauguration, cesarean delivery time childbirth, or for a visa interview.
Not to forget MD AD PD should support a particular then only Moon star will deliver. Sun will mark the month for the event, Moon will mark the day, and Sub lord will mark the hour in a day.
FREE cheatsheet for KP Combinations in Astrology
Subscribe to newsletter and download the cheatsheet PDF.