How to find a Career in Astrology: Are you, confused about which career is best for you? No worries! here Astrology can actually help you and today I will present simple techniques that will benefit you to find a Career in the Horoscope. Today is the time where we have so many career choices that we just need to have little awareness of our passion and inclinations. And then we are able to choose the right path, and which takes us towards fulfillment or achievement.
In a horoscope, there are twelve houses, nine planets, twelve signs, and twenty-seven nakshatras. So all these combinations give us the details. The analysis of Rashi, Planet, Bhav, and nakshatra has to be done. Here the question is regarding Career so we will see the D-1 chart and the 10th house.
I would suggest starting the chart with Ascendant and its lord, Moon and its nakshatra, 10th house, Planets in the 10th house, 10th lord, so note down all the planets.
Now check the career options signified by these planets. Now check the education attained by the person. Check the running Dasha and what work is signified by the current timeline.
Next, you need to see the D-9 chart to check the strength of the planets and check the position and Rashi of the 10th lord of D-1. Then we will open the D-10 chart and check the Lagna and its lord and 10th lord of D-1, this will tell about your Career. Now let's discuss the technique to find a career in Astrology.
7 Important Combinations to find a Career in Astrology
Ascendant and its lord
Moon sign and its nakshatra
10th house, planets in the 10th house, and 10th lord
Navamsha Lagna lord and its position
10th lord of D-1 in navamsa chart, position and conjunction
Dasamsha [D-10] Lagna lord and its position
10th lord of D-1 in D-10 chart
Note down all the planets and their features, every planet signifies some profession, so narrow down to two planets and see the houses they signify. Let's understand how to analyze these combinations.
How to analyze planet's results
Rashi / Zodiac sign
Element – fiery, airy, watery, earthy
Modality / Quality – movable, fixed, dual
Karaktatwa / Significance
Nakshatra Significance
Analyze the Lagna (D-1) chart to find Career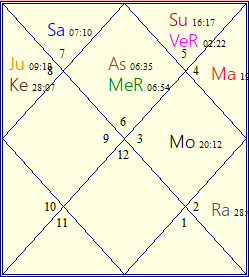 The Lagna is Virgo and its lord is mercury and Lagna Nakshatra is Uttarphaguni.
Moon is in the Gemini sign and its lord is mercury and Moon Nakshatra is Punarvasu.
Moon is in the 10th house and is in Punarvasu, Jupiter star.
10th lord Mercury is in Lagna.
Gemini sign rules social network, marketing, 10th lord is mercury. And mercury in Lagna in a Virgo sign, which represents perfection, criticality, analytics, calculation, service, sense for details, and practicality.
The moon is posited in the 10th house being the 11th lord. So 11th house energy plus planet Mars gets linked. The 11th house signifies MNC, a social network. Firstly this is 12th from the house of your career, so this states foreign country, and Moon in 10th house represents such work that helps common man, associated with more of imagination and creativity. And this will get him to work, status and recognition.
Moon in 10th house aspects 4th house of masses, so a connection with common man comfort through your creative skills.
So Lagna chart gives the planets mercury, moon, Jupiter, and signs are Gemini and Virgo.
Now we have Mercury in Lagna, being the 10th lord and Lagna lord Mercury in astrology gives career options related to communication, calculations, social media, writings, logical analysis, and documentation.
And 1st house represents your image, self-presentation, and personality. So if self gets connected with 10th house, then the person will do work, in which he has attained education, and also he will be promoted in a fast pace.
And since Mercury is a fast-moving planet and indicates logical analysis, this will give a good career rise in social media, documentation, or work related to the banking and IT industry.
The position of Moon again a fast-moving planet, and in Gemini sign, of networking and making relationships. Here this chart shows career options related to moon and mercury.
Analyze the Navamsha (D-9) chart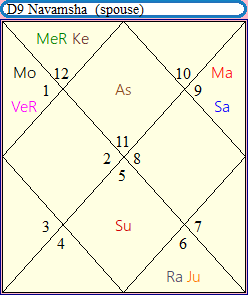 The Lagna is Aquarius and its lord is in the 11th house
10th lord is in 11th house
10th lord of D-1 mercury is in the 2nd house in Pisces sign with Ketu. Now 2nd house represents finance, savings and Pisces states Jupiter related work.
Here we get, that Aquarius Lagna, is the 6th lord of the D1 chart. This states the person will be giving services in his life. Now 10th lord Mars with Saturn in 11th house in Sagittarius sign. Now, this is the 3rd lord and 12th lord combination in the 11th house. This states foreign connection, and 3rd lord is again communication.
And in 3rd house moon and venus highlights publications, marketing, and a comfortable environment. Now 10th lord of D1 mercury in Pisces sign (Jupiter) again confirms the foreign connection and 2nd house of finance and banking.
Analyze the Dasamsha (D-10) chart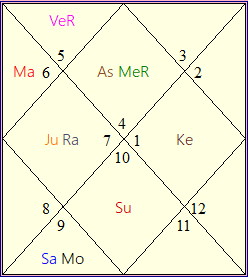 Lagna is Cancer which is the 11th lord of D-1
10th lord of D-1 mercury is in Lagna and it's the lord of 3rd house and 12th house.
The Cancer Lagna again and Mercury the 10th lord of D1 posited here highlights Moon Mercury's involvement. And Mercury is the 3rd and 12th lord. And Venus in 2nd house states luxurious plus wealth-related workplace. The 10th lord in this chart Mars is in the 3rd house. Ketu's position in the 10th house in Aries, a fiery sign states a good authoritative profile, but it can also give instability, due to detached feelings, in work. But if work related to Ketu then can give heights in career.
Conclusion
When we join all the points together, we gather that the planet Mercury plays a significant role in this chart, and mercury is well placed in Lagna in D -1, and in D-9 mercury is in the 2nd house with Ketu. So the 2nd house is related to speech, support system, wealth, storage.
Mercury is a planet of communication, logic, and understanding, and calculations. In D-10 Mercury is in Lagna with the lordship of the 12th house and the 3rd house. This gives an indication of the technical field and out-of-country prospects.
So at present, the native is working in a foreign country in a Bank and handling the marketing department.
I have given 7 Astrological steps to find a favorable career, so try to analyze your horoscopes and figure out what planets have to say regarding your career. As I feel if you follow the career actually designed for you, then you will definitely attain success in your life.