Moon Conjunct Saturn: As per Vedic Astrology, Saturn and Moon have an inimical relation with each other. Therefore in horoscope analysis whenever there is the association of Saturn Moon, it is called Punarphoo Yoga or Vish Yoga. There are six ways to check this relation in a horoscope. So if:
Saturn and Moon are conjunct in the same house.
Saturn and Moon both aspect each other.
Saturn is in Cancer as this is Moon sign.
Moon is in Capricorn, or Aquarius sign as these are Saturn signs
Saturn is in Moon nakshatra or star-like Hasta, Shravana, or Rohini.
Moon is in Saturn nakshatra or star-like Pushya, Anuradha, or Uttarbhadrapada.
If you have this Saturn Moon conjunction in your horoscope or you want to have complete knowledge on this. Then read this article till the end as today I will remove all myths and misconceptions and then suggest remedies, and make the best out of this Saturn Moon conjunction.
Saturn is the slowest moving planet and travels at a speed of 3 minutes per day, and thus takes 2.5 years to complete the 30-degree sign. Whereas Moon is the fastest moving planet and travels at a speed of 13 degrees per day. Therefore it takes 2.5 days to complete a 30-degree sign. And this fast-moving planet joins Saturn twice a month. This transit Saturn and moon position plays a vital role in Horary Jyotish or Prashna Shastra. In KP Astrology it is understood as Punarphoo Yoga.
Before understanding the Saturn Moon conjunction, let me explain the signification of both the planets. Once you know the basic features, then it's easy to understand the association.
Saturn in Astrology
Saturn is considered old, dry, cold, and the darkest planet in Astrology. It represents delays, despair, depression, denials, devastation, desperation, discouragement, dejection, disappointments, damage, danger, disasters, destitution, destruction, delusions, difficulty, detachment, and distress. Alright, so many D's probably all fearful words.
But I would like to add that Saturn is the most realistic planet. It will bring the real and gloomy picture, to the surface. Saturn signifies Justice, hard work, limitations, creating boundaries, and laying structures. It governs Capricorn and Aquarius signs of the natural zodiac. Capricorn represents structures, stability, and goals. Aquarius describes welfare, humanitarian work, and social service. In Astrology, Saturn has inimical relation with the sun, moon, mars Rahu Ketu and is friendly with venus mercury, and neutral with Jupiter. Remember that Moon is inimical to Saturn.
Moon in Astrology
Moon in astrology signifies the water element. Therefore kindness, creativity, flexibility, tenderness, nourishing, emotions, psychic energies, and intuitive spirit these attributes are all governed by Moon.
Did you see that the planet Moon, rules only the subtle properties, so more emotions flood? Moon rules the sign Cancer, and this sign is the 4th lord, therefore the significations like comfort and care get connected. It is assigned the honor of Mother in the planetary cabinet.
Thus Moon signifies your feeling, emotions, romance, moods, and receptivity in the relationship. It is also considered the most lustful planet, so it plays a major role in love affairs and relationship issues.
Punarphoo Dosha/ Saturn Moon Conjunction Effects
When Saturn Moon conjuncts in the same house, sign exchange, mutual aspect, or nakshatra relation it is called Punarphoo yoga, it's a Sanskrit term Punar means again and phoo means happen. That means the events will reoccur. So means there will be a tendency of putting effort again and again to get results. A lot of delays and disappointments can be faced.
It is important to note the house, where this conjunction takes place. As only house-related events will face failures and frustrations. For example, if this Saturn Moon Conjunction is placed in the 7th house of marriage then there is a possibility of delays and refusals. And if this yoga is in the 10th house of career then sadness and dejection in the profession will be faced by the person.
Why it is called Vish Yoga?
The word Vish means poison, so why Vish Yoga? Now as you know Saturn is the cold, dry and gloomy planet and Moon is watery, with inner feelings, softness, and tenderness. Here the dark Saturn overshadows the soft and flowing Moon, it actually freezes it with its coldness.
Therefore when the poison is mixed in feelings, it leads to pain and disappointments. It additionally fills the mind with poisonous thoughts and holds grudges. These grudges in later stages of life manifest in the form of physical ailments.
Check Moon Saturn Conjunction like this…
Whenever you see this conjunction in the chart, first you need to see the degrees like there should be a 7 to the 8-degree distance between two planets if it is more, then the yoga will not give results.
Role of planet Degrees and its Results
If Moon is at 10 degrees and Saturn is at 15 degrees. then Moon will take the lead, therefore the mind will be involved in hard work. This category will work hard again and again but will always be under stress, pressure and get nervous easily. This also leads to headaches, anxiety attacks, fearfulness, hallucinations, and depression.
If Saturn is at 10 degrees or the lower degrees and Moon is at 15 degrees then Saturn will overpower emotions, it will be more realistic and hardhearted. He knows how to get the work done without getting emotionally affected. He will not cry easily, and such people don't have a good relation with Mother as well.
Case Study to learn moon and Saturn Conjunction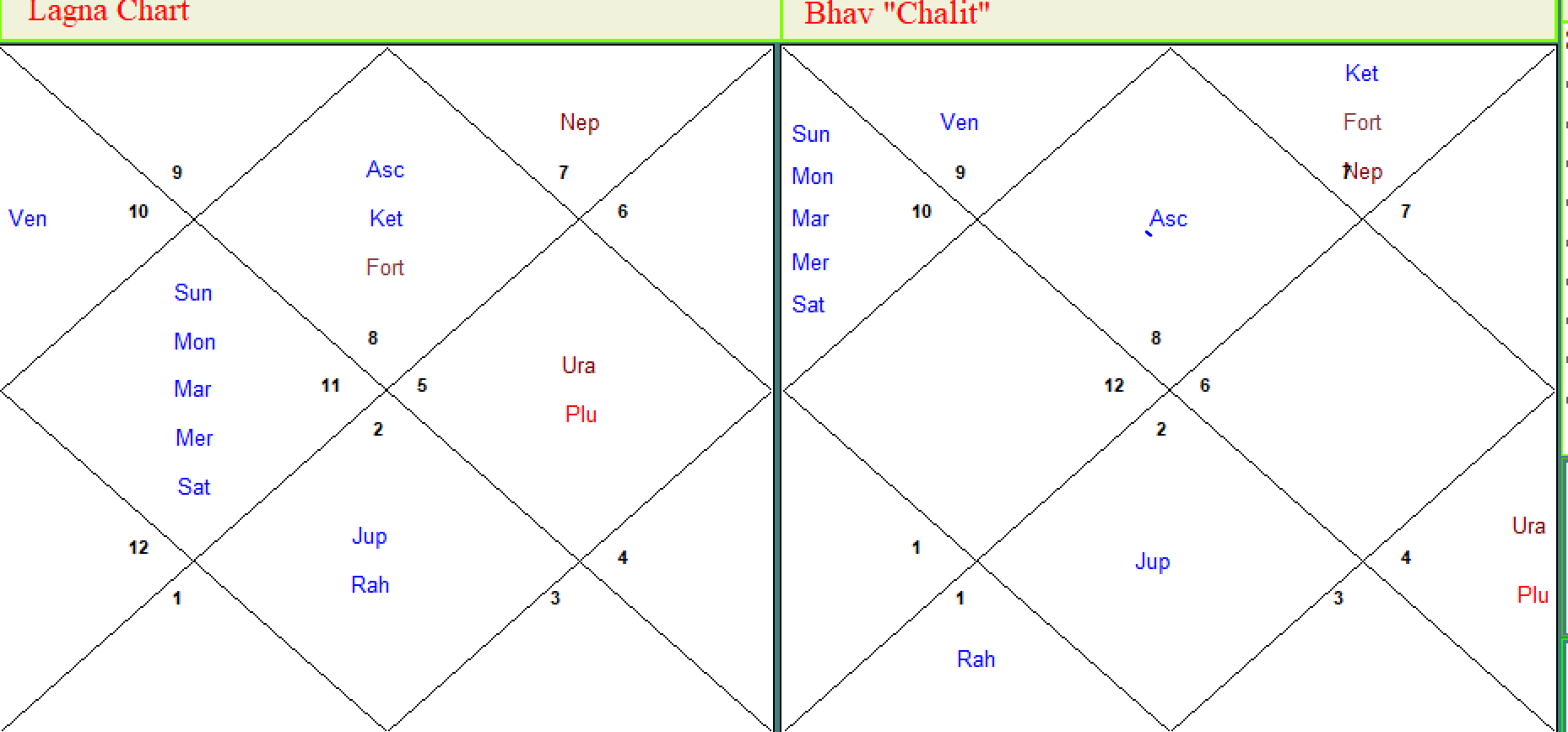 The above chart is a Scorpio Lagna and there is the conjunction of 9th lord Moon and 3rd, 4th lord Saturn in 4th house. Here there are five planets posited so the planets will also give different results.
Now you can see, that Saturn Moon is conjunct together in Aquarius, so Moon is conjunct with Saturn through sign plus house. Now this made the Moon extremely weak. A weak Moon is not capable of making wise decisions, as it gets emotionally involved in every matter.
Now, this conjunction is in the 4th house of comfort, happiness, and property. Therefore this person faced lots of ups downs to get compassion, harmony, love, and happiness.
Remedies for Saturn Moon Conjunction
I strongly believe that by worshipping Lord Shiva and Lord Shani, chanting Vedic mantras like 'Om Rudraye Namah'. Giving contributions to the poor and destitute (Saturn), or donating water (Moon) can reduce anxiety attacks.
Lastly, I would like to share my opinion on handling mental issues, leading to relationship mess and health chaos. I believe that Vedic wisdom and regular meditations can actually remove your ignorance. And once you get the right knowledge then you have such an intellect that is rational and balanced. Knowledge is like a sword it dissects the idea, thinks about it rationally, organizes it, and gets rid of cluttered thoughts. Thus in spite of delays and denials, one can rule his weak mind.
Conclusion
The Saturn Moon conjunction in horoscope generally makes a person pessimistic. And since the moon represents your mind, they have a weak mind that cries on petty matters. The habit of holding within can give heart issues as well. As Moon represents heart, and Saturn if freezes can lead to heart failures.
They can also face anxiety disorders leading to sleep issues. Regarding health I have observed, such people generally face mental issues. Else there are chances of water-related diseases, like dehydration, severe acidity, so the water level of the body can be affected.