Planetary Combinations for a Political Career: Today morning when I started my newspaper, politics, and politicians, these titles had made news in every division. Then I switched on a news channel, Ohh God a debate was going on in almost all the news channels, where the editor invites lawmakers and agitators, and corresponding discussions continuing.
What are these people doing, do they want justice, or do they want to change the situation of the nation? Well, I don't think so. I strongly believe that they just want to grab the attention of a common man watching the news or reading the newspaper. No doubt Rahu (Attention seeker) is playing a major role.
Today is the time when everyone around us irrespective of age, wants to come into the limelight, get fame, power, money, and popularity. But who can actually do this? Read this article till the end, and I will share all the astrological combinations required in your chart to have a Political Career.
Now before you make up your mind to jump into politics and start your career as a politician, just see that according to your birth chart, what is the probability of success else invest your money, time, and energy in any other career option.
After a comprehensive analysis, I have realized that only those people who made their political career a success truly had the most high-grade politician combinations in their charts. Let's understand all those outstanding combinations.
What is Politics?
Before stepping into astrological combinations let's decode the word Politics. Every country is run by a government that has certain regulations and laws and these directions are for proper management and welfare of the country.
The government makes these laws so that society will be secure and completely-organized. Therefore all these activities and actions concerned with achieving and using power in a country or society denote Politics.
Qualities Required for Political Career
A person who holds a position in government and the one who supports, proposes, and creates the laws of the government is known as a Politician.
The foremost qualities actually required in a politician are good communication skills, leadership traits, wisdom, diplomacy, and courage. I will explain in detail, the connection of these qualities with planets and houses in Astrology.
Main Planets for Political Career
The main planets that make you join politics are Sun, Moon, Saturn, Jupiter, Saturn, and Mars. Now the strong position in divisional charts and the other combinations make you a successful politician.
Sun
In Vedic Astrology Sun represents Government, power, position, and leadership. In fact, it is considered the King and Father in Astrology. The position of the Sun decides the purpose of your soul. The relation of Sun with 6th house, 10th house, and 11th house make a desirable combination to become a politician.
Moon
The Moon symbolizes your mind and a stable mind takes thoughtful decisions. Do you know the secret behind a serene mind? Our five sense organs truly send information to the mind. So if senses are calm, the mind is stable, and a balanced mind gives direction to the brain to make thoughtful decisions. Therefore strong Moon the karaka of the 4th house is really important to rule over the masses and get allied with their heart and comfort.
Jupiter
Jupiter represents the intellect of a person, your thought pattern, as it explores ideas both at a spiritual and intellectual level. A strong Jupiter governs the ideologies, education, and principles of a person.
A weak Jupiter will make a person Hypocrite, selfish, and give a corrupt mindset. Such people do not believe in ethics and values, therefore can take the wrong direction for selfish interests.
I strongly believe that people who don't have moral values, they cannot reach heights or win the heart of masses. Hence a strong Jupiter in the horoscope increases the probability of a political career.
Mars
Mars enables you with courage, will power, the fighting spirit, and to move ahead without hesitation. A person with strong Mars never gets swayed away with temporary pleasures and gains. Mars symbolizes the Fire element in the human body. So fire motivates and makes you passionate to attain your goals and ambitions. However A politician should have a strong Fire element, else he cannot survive in front of enemies.
Saturn
Saturn represents justice, hard work, limitations, boundaries, and discipline. Being the karaka for judgment, legislation, and regulations, it plays an important role in the horoscope of a politician.
A politician's duty is to understand the problem of the masses and help them in living an adequate life. Also at the time of the election, the votes of the masses hold importance.
Saturn in 3H, 6H, 10H, 11H, gives great results. These houses play a vital role in the career of Politicians. A politician is supposed to keep the underprivileged people happy, then only he can sustain the seat of a politician, be it any division.
Rahu
Rahu represents obsession, manipulation, and deception. Well, these terms might sound negative but today in this era, if you want to be a politician then Rahu should be well placed.
Rahu is the planet that has no body and has only head, so it means only cleverness and brains for benefits and no emotions, no ethics, no mercy as all these come from the heart. However, Rahu does not have a heart.
I believe today a politician needs to make powerful decisions for the benefit of the masses that is true but since there is a lot of competition he has to be very manipulative and should have a strategical mind. Also, he should have the art of drawing public attention with strong and convincing speech. Hence all these things only a strong Rahu is capable of giving.
Main Houses for Political Career
The main houses that play a significant role in a career of politician are as follows:
Ascendant/Lagna
The Ascendant/ Lagna depicts the image, self-identity, the temperament or Swabhav, and good public relations. Since people like the energy of such people. They have a strong aura, that energizes the spirits nearby so probably such people gain reputation and recognition.
Also, they have good decision-making skills, and fortunate to hold the powerful post. Therefore highest posts like Prime Minister, President, and chief minister can only be attained if there is a powerful Rajyoga effective in Lagna. Then only you can win votes and gain public attention.
The Third House
The third house represents your courage, desires, passion, efforts, and also includes your communication with the world. A strong third house makes a person very hardworking, presentations will be marvelous, communication skills will be of different level, and also have a good planning ability.
Hence a politician needs to have a strong third house to make bold and spontaneous decisions. Also since the third house rules media, and journalism so politician needs to have a diplomatic vision before making any comments in front of media.
The Fourth House
The fourth house represents home, happiness, heart, and comfort. The Karaka of the 4th house is Moon, also it signifies land, building, mines, farms, and even masses. Therefore if powerful planets here and the 4th lord is also well placed then the person's heart will get connected to the comfort and happiness of the masses. A good politician is large-hearted and works for the happiness of the common man.
The Sixth House
The sixth house represents the services given by a person, health, and competition This house is also known as Shadripu which means six kinds of enemies. But in Astrology three kinds of enemies have been primarily regarded. Rog, disease, (Rin) debt, (Ripu) enemy.
Therefore a strong sixth house means the person is influential enough to conquer every kind of enemy. A politician has to deal with enemies on all fronts, his journey starts with winning the competition and goes on serving society.
The Seventh House
The seventh house represents the opposition, the house for the masses. And also considered the house of Padprapti which means high position.
The seventh lord or planet in the seventh house makes a strong raj yoga if with the eleventh house or tenth house it, and this powerful yoga plays a vital role in a politician's career. As he needs support from the masses. Also, he needs to dominate the opposite party on a daily basis in his political career.
The Eleventh House
The eleventh house is the house of fulfillment of desires, gains, and profits, the social network, welfare, NGO, and even friends circle. A successful political career is only possible if you have a strong eleventh house.
Else you will contest elections, put a lot of effort, get public recognition but if no gains then definitely no position in Government. And no position means no fame and authority, Hence a politician needs to have a powerful eleventh house to get his visions and goals fulfilled.
Here are the example charts of the two most successful politicians of the Millenium.:
Political Career: Barack Obama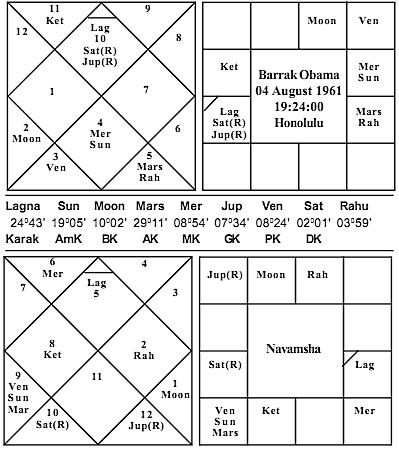 Mr. Barack Obama was selected as 44th U.S. President of the USA. Let's discuss all those powerful combinations that made him the most powerful person in the world. Check the combinations present in his chart, which we have already mentioned above.
First of all, observe the Lagna, a Capricorn Sign with Saturn and Jupiter posited. This is a Neech Bhang Raj Yoga and it is formed when exalted and debilitated planets are in conjunction.
Yoga means that this person has supreme knowledge (Jupiter) and the most beneficial skill (Saturn) in making Strategy and laying Structure for the Self Actualisation, Temperament. Therefore he will make an Identity with self-efforts.
Jupiter is the 3rd lord (efforts, courage, and presentation skills) and 12th lord (investments, Donations, Charity, and Associations with Philanthropic Institutions). and posited in 1st house with Saturn 1st lord and 2nd lord( Speech) This combination has, in fact, made the chart unusually powerful.
Due to the aspect at 3H, 5H, 7H, 9H, 10H, and planets sun and mercury also got strength. This way all required houses got linked.
Even the Navamsha chart with Leo Lagna and Sun in 5th house. Venus 3rd lord and 10th lord and Mars 4th lord and 9th lord.in 5th house( solution giving). Plus Sagittarius Rashi affirms the higher goals.
Lastly, I will highlight the position of Rahu with Mars in the 8th house in the Rashi chart. This is called Angarak Yoga which signifies the fire element in a person. The sign lord of Rahu is Sun and being in the 7th house of opposition, with the 6th lord of competition and services. The position of the Sun gave him recognition.
In the Navamsha chart, Rahu is in the 10th house of fame, name, and status and in the Taurus sign. This signifies consistency and methodology.
This way you can see how all-powerful raj yogas if connected, can undoubtedly give a triumphant political career.
Political Career: Prime Minister Mr. Narendra Modi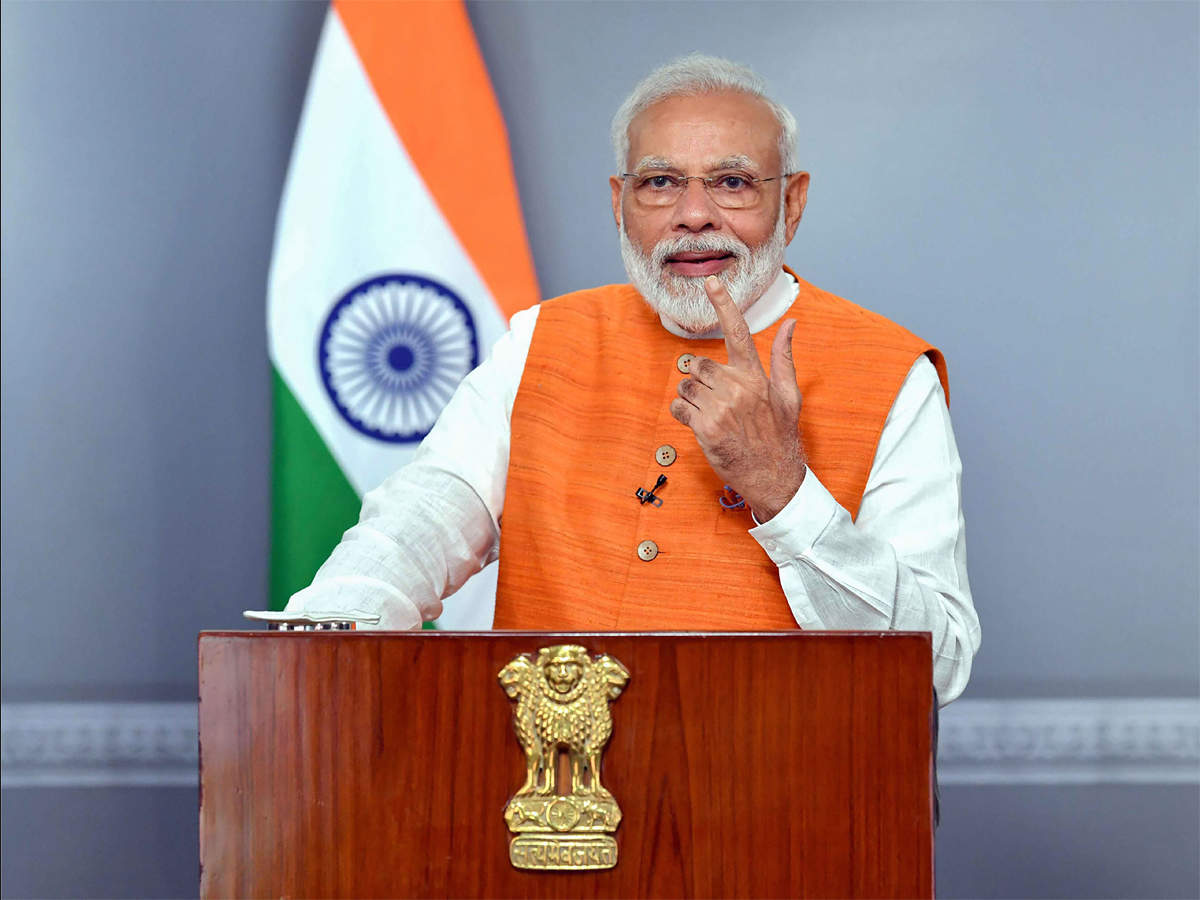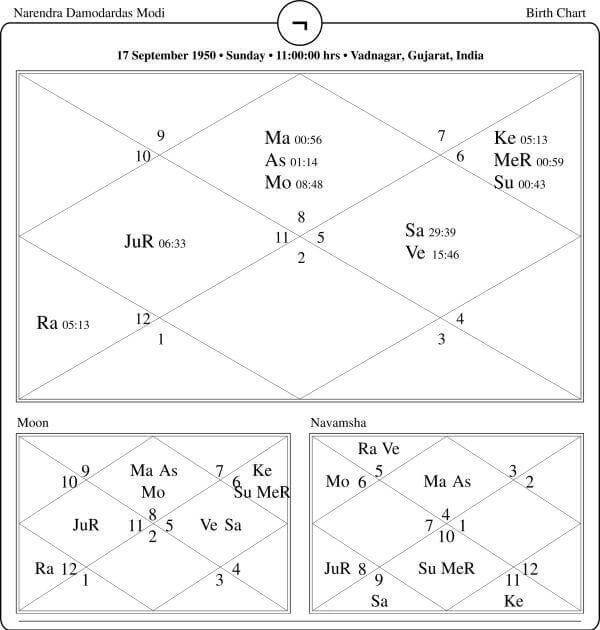 Mr. Narendra Modi is the existing Prime Minister of India. Let's discuss all those powerful combinations that made him the most charismatic person in the world.
His political journey started at a very young age and due to his determination, pure intentions, and consistent goal-oriented efforts. He is such a politician in the modern era who has won the hearts of millions.
Check the combinations present in his chart, which we have already mentioned above.
The Scorpio sign with Moon and Mars placed in Lagna. This magnificent Rajyoga of the 9th lord of higher learnings, Moon (your subconscious mind), and Mars the action-oriented and the 6th lord of competition in Lagna.
This combination gave Mr. Modi such a vision of a prosperous and developed country moreover he started building patterns for the manifestations of his Dreams for the welfare of the masses.
Jupiter 2nd lord of speech in the 4th house of masses, and popularity so when he speaks his voice reaches the heart of the masses, now that is the most essential yoga for success in a political career.
The third lord of presentation is Saturn (skills, potential and focus) placed in 10th house, Leo Sign, that signifies Royal, Lineage, implementation of authority orders for Growth, Government, and Politics. Therefore his presentations are highly praiseworthy.
The Cancer Lagna in Navamsha chart is the 9th lord of Rashi chart, this signifies higher learnings Standard Procedure, Laws, Dharma, and Management will be the main focus of this person.
Rahu in the 2nd house of speech with the 4th lord again signifies powerful, and attention-seeking (Rahu) with discriminative skills (Venus) in Leo sign of giving authoritative orders.
Jupiter lord of 6th (Sewa) and 9th lord (dharma) in 5th house (giving solutions).
All these combinations have made the chart so strong, and this is the reason that Mr. Modi after serving as chief minister, became PM of India for the second time.
Conclusion
This way I have shared Planetary Combinations for a Political Career. And I would further imply that it is not essential that one will have all the important combinations to get into politics. Every chart is unique in itself, this is just like the Hierarchy in politics. and more the combination, the greater will be the rank in the government office.