The North-East Direction: Vastu is the science of the 16 directions and Five Elements of nature mainly. Every direction has fixed traits and the five elements support and opposes each other. And if you know the secret behind this fixed (Purush)and variable(Prakriti) concept, then you will understand that Vastu Shastra truly is a spectacular godly tool that equips a person to work to the best of his capabilities.
When a person buys a property, his first thought is that will that place ever turn into a beautiful home or a globally recognized office building.
Before going further I want to share that in earlier times the Vastu Shastra benefits were not shared with the common man. And only the King and his palace were constructed as per Vastu rules, considering the king's dreams and visions. But today a common man has easy access to this secret knowledge, and if you understand the hidden meaning, then you can comprehend the main purpose of your life and move towards excellence.
16 Directions and its Traits
NORTH – Customer and Opportunities
NNE – Immunity
NE – Clarity and Motivation
ENE – Happiness
EAST – Social Associations
ESE – Overthinking and Churning
SE – Money
SSE – Confidence and Strength
SOUTH – Name and Fame
SSW – Disposal
SW – Savings and Relationship
WSW – Education
WEST – Gains
WNW – Detox or Depression
NW – Support and Resources
NNW – Attraction and Sensuality
North East Direction
How to Find the North-East Direction in Vastu
You know about 16 zones and their traits. So the perfect way to examine any house as per Vastu rules is to check the Brahma sthan because the entire energy flows from the center of the house.
And considering the correct center as per the built area, divide the building into 16 zones in an angular form. Here you will see that each zone is 22 degrees and 50 minutes. Therefore 22 degrees 50 minutes multiplied by 16 is 360 degrees. Now we have 16 zones each of 22 degrees and 50 minutes. Mark the area between 35 – 55 degrees, this particular zone is the North-East direction of your house.
The Secret of North East Direction
According to ancient wisdom, the Northeast is called Ishaan kon. But I learned something remarkable from my teacher Mr. KB, founder of Mahavastu. (The Sun is fixed at its place and it is only due to earth's rotation that makes Sun disappear, rise or set. Basically, that side on earth which faces the Sun gets Sunlight)
I realized that the position of the Sun at midnight at 12 am is North direction. And 12 am to 3 am is the time of deep sleep, which is very essential to rejuvenate the energy and even improve immunity. And around 3:40 am your body is healed and ready to work. So this is called Brahm Mahurat. That means when the world is asleep, your body is ready to connect with Isht Devta. People who follow the Brahm muhurta regime are found to be more productive. It gives the body a good vitality boost to keep up with the hectic day. Also, early risers are said to be more proficient in taking better decisions, scheduling, and even accomplishing goals.
The Significance of North East Direction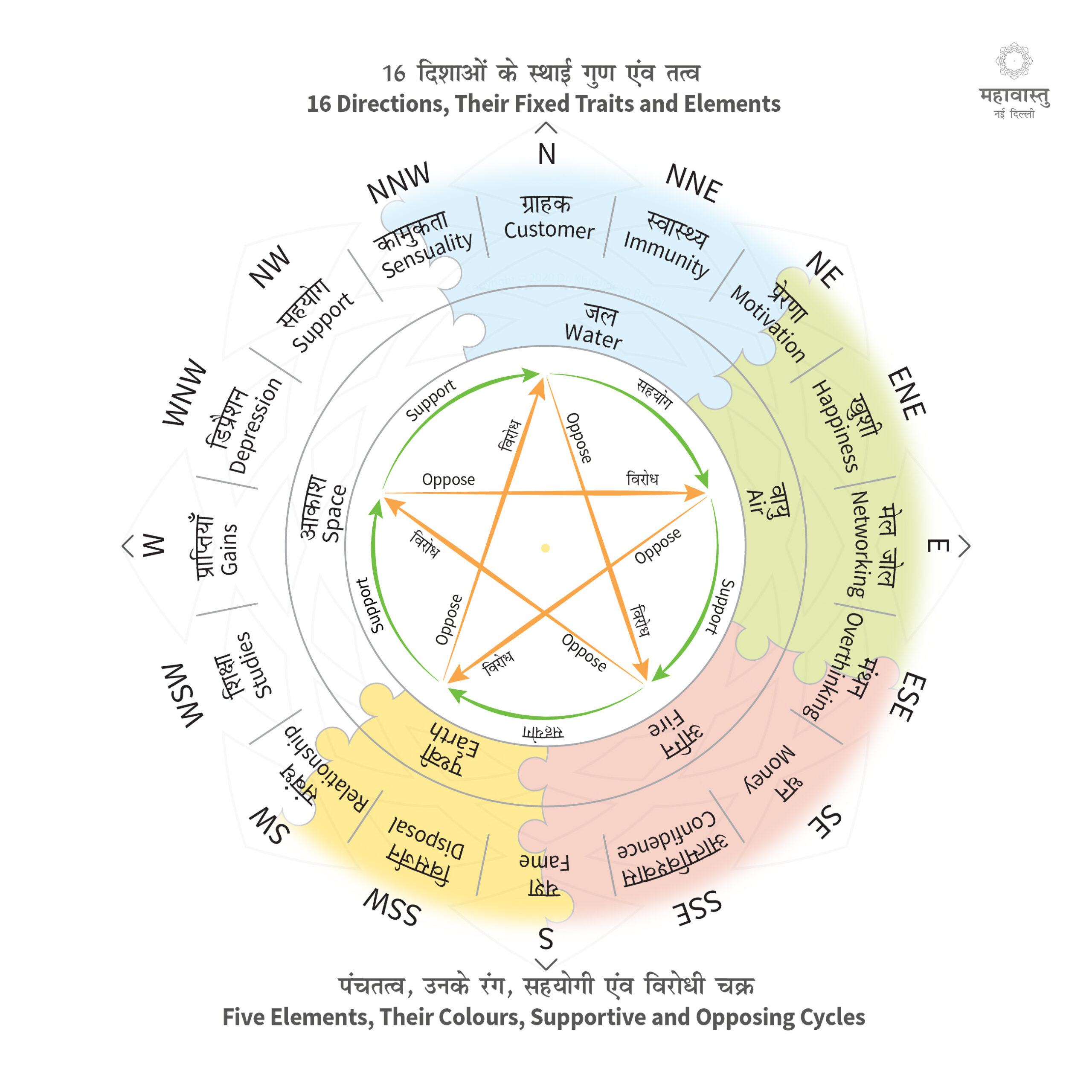 The figure shared above clearly indicates that this direction leads to Clarity and Motivation. Now most important is what exactly is the status of the north east direction in your house. So let's start with elements.
Water Element – Vastu Shastra
The water zone includes NNW North NNE NE. So first step will be to check element imbalance. Now earth and fire disturb the water zone.
Earth Element in NE – The earth block the water from flowing. And this obstructs the promising outcomes of the zone. The optimistic and motivating energy is stopped. And this results in a blocked intellect. So when intelligence is blocked, one cannot think clearly, or accept the shortcomings of his life goals.
Fire Element in NE – This weakens the fire as well as water. As the fire gets extinguished in water, water becomes warm, and this further does not create air. This way the creation cycle gets disturbed. Generally, fire in NE makes one headstrong, stubborn, quarrelsome, and aggressive.
Toilet in North East Direction
Basically, that zone, which can elevate your mind and give clarity about your future dreams is inhabited by Toilet. So a waste and disposal activity SSW is present in the NE zone of clarity. This means that your ideas and understandings will either won't hit you or you will never get them at all. And most importantly it gives chronic health issues that are incurable.
Actually, it will ruin both zones that are SW and NE. And the reason will be Vastu dosha in NE. Now the truth is that there is no remedy for toilets in North East. So it's better if one changes the disposal position. Because if it moves to NNE or ENE, one can block the toilet with blue color paint or strip.
Else one will struggle throughout his life, either due to health issues or a clogged mindset. In Astrology, NE is governed by the planets Jupiter and Ketu. Jupiter represents knowledge, finance, children, and even your fortune. So all these important aspects of life get obstructed, only due to Toilet in North east direction.
Other Effects of Vastu Dosha – North East Direction
This is the transformation zone, where water is converted to Air. So it becomes extremely important to balance this zone, to keep the cycle of creation going. The first step will be to remove element imbalance if, in the form of earth, this can be storage or heavy wooden furniture. As this will result in a blocked mind, stagnancy in thoughts, and chronic health issues.
Fire in the form of a kitchen or red wall painting. This can give anger and rigidity to the mindset. One is not ready to accept the guidance as well. The fire here evaporates the emotions and this dryness further does not allow him to interact with society due to his agitated nature.
If there is a washing machine or Grinder then it will also give no transparency related to future plans and can give headaches and migraines due to the machine here. As the machine is the fire element, so it will ruin your beliefs and sentiments.
How to Strengthen North East Direction
Remove the anti-element or anti-activity, then program the zone as per your preferences and even the life direction. Because if North East is balanced then only one reaches the next zone of happiness ENE. Now this will vary in everyone's life. In my view,
If you keep your mentor or Guru pic, he will guide you and give clarity.
By keeping Isht dev here, you will connect to the higher self and get wisdom for future goals. Too many idols will also create confusion in the mind.
Keep self-development books as these are best to get clarity and inspiration.