The attributes of the five elements water, air, fire, earth, and space ( Jal, Vayu, Agni, Prithvi, and Aakash) have been considered as Tridosha ( Vata, pitta, and Kapha in Ayurveda and Triguna in Yoga). In Vastu, the concept of five elements and their relation with 16 zones is used as these are visible in the manifested world. Today I will explain how five elements of nature can attract, health, money, and Success.
In physical reality, you can see water creates trees, trees create fire, fire is converted into ashes, and becomes earth, then metals are extracted from the earth. So these five elements combine to create the whole world.
To understand these five elements and how they are connected with Vastu, you need to know the nature, shape, color, and properties of all five elements.
It is the balance or imbalance among these Panchtattwas that makes one's space virtual heaven or hell.
Water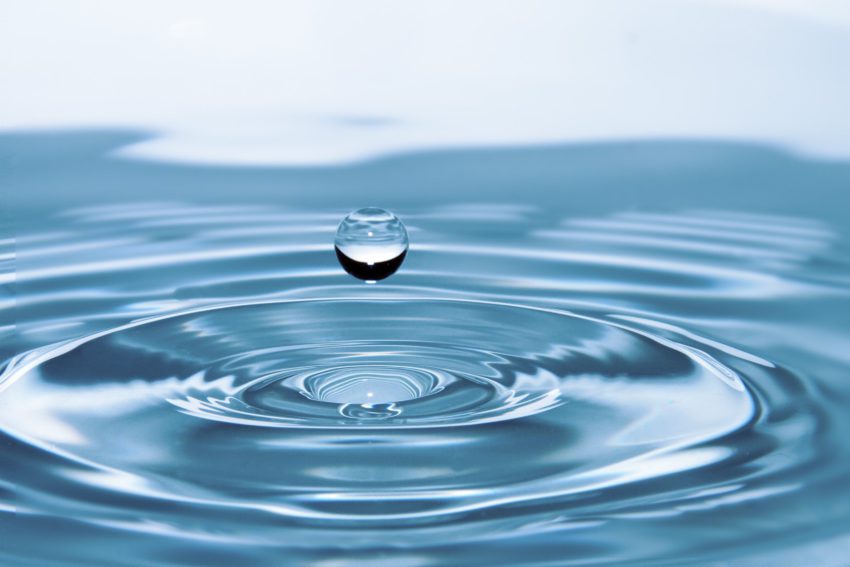 Whatever is liquid and flowing and has the property of evaporation, condensation into vapor, and conversion into liquid again is Water. This element if imbalanced can give health issues be it physical or mental.
Thoughts and emotions are also included in the water element.
The color is Blue and Black, the shape is wavy, and the metal is Aluminium.
The North Zone is the direction of the Water element.
It is associated with a desire to grow in Life, gives clarity of thoughts, improves immunity, and gives new opportunities to grow in life.
If we have to check whether the water zone is balanced or unbalanced, then we have to focus on the problems stated by our client.
The tonality of the voice also indicates the disturbing element.
Balanced Water Zone
If the Water zone is balanced then the people staying in the house are balanced in their emotions, they have good health and a very positive attitude towards life. It gives new ideas, and clarity of thought and they create good opportunities for growth in the Career. Water is one of the most important Five Elements of Nature to Attract, Money, and Success.
Imbalanced Water Zone
If the Water zone is imbalanced then the people staying will be facing health issues, they will always be found cribbing on petty matters, they have anger or behavior issues, and they are always confused about their life decisions. They find themselves stuck in Careers, with no growth, and above all, they become so adamant that they don't even accept wise suggestions.
Vastu Tips for North Zone
Are you also feeling low and becoming oversensitive these days then you should check the north zone of your house. As north zone is the direction governed by water elements.
70% of the human body consists of water. And water represents emotions, sentiments, relationships, and even creativity.
Now, water is damaged by either Fire or Earth.
Fire will evaporate the water, and Earth will block the flow of water. And if the emotional flow is blocked, then we feel unwell, depressed, and stuck in life.
Do you know the space inside you is an extension of the space around you so your life is the product of your inner space? Every space be it in a building or outside it, has a specific purpose.
Hence, if you feel uncomfortable or things are not going in your favor, there is definitely some imperfection in your space. This is called Vastu Dosha.
Create the right energetic and supportive space to set yourself up for success with the help of Vastu Tips.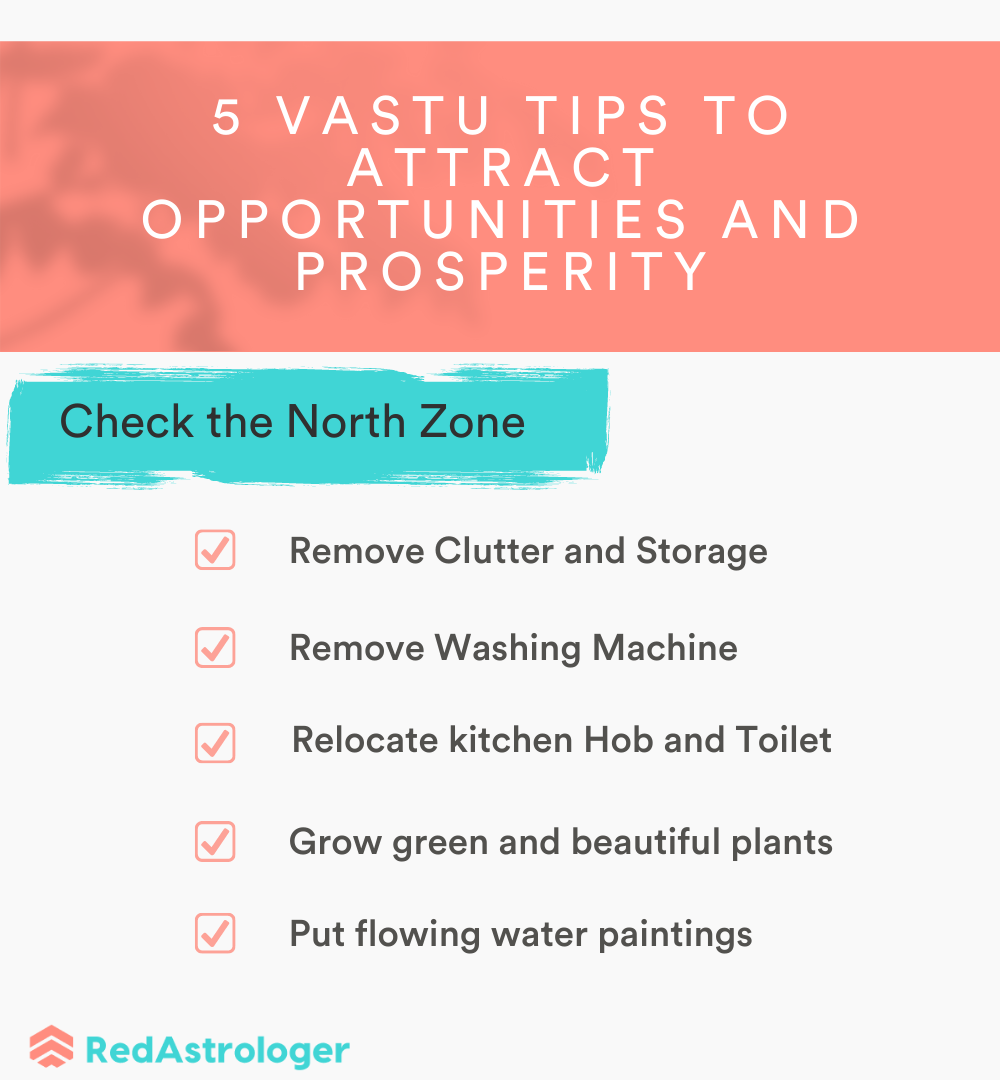 Air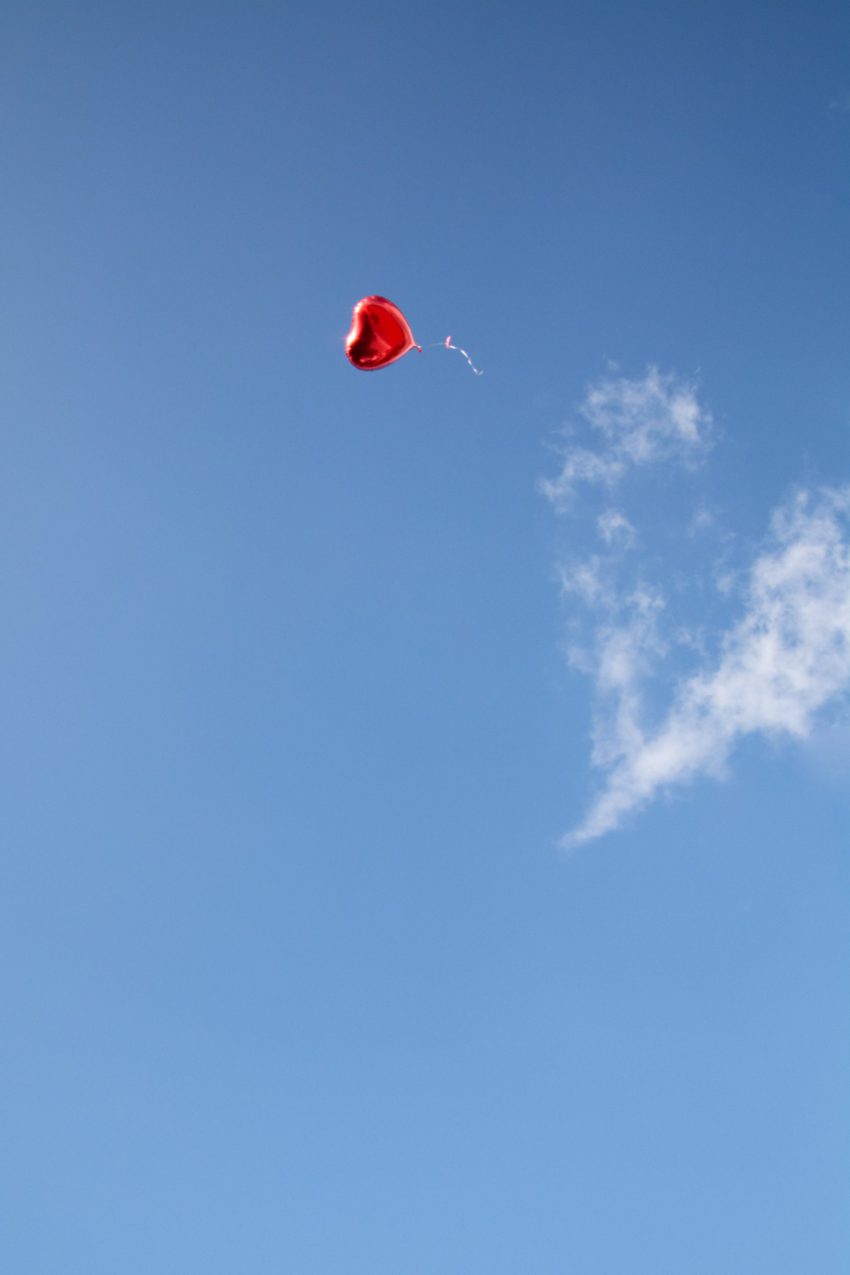 The Air is also called Wood. It has the property of growth, the air is present where ever there is growth. The balanced Air element in the house makes you cheerful and friendly. You have great social skills and immunity is also very good.
The color is green and brown, the shape is rectangle or oval. metal is stainless steel.
The East Zone is the direction of the Air element. This is the element that brings fun and entertainment to life, makes us socially active, and gives us growth in every sphere of life.
Balanced Air Zone
If the Air Zone is balanced in the house then it makes your social connections very strong. The people staying here will be very creative and full of life. You will take risks for your growth and inner self. You will inspire others also to explore something new in their lives.
Imbalanced Air Zone
If Air is imbalanced in the house then it gives problems with society or neighbors, you will find yourself stuck and no growth in your career, you might also face health issues like joint pains, suffocation, and depression.
Fire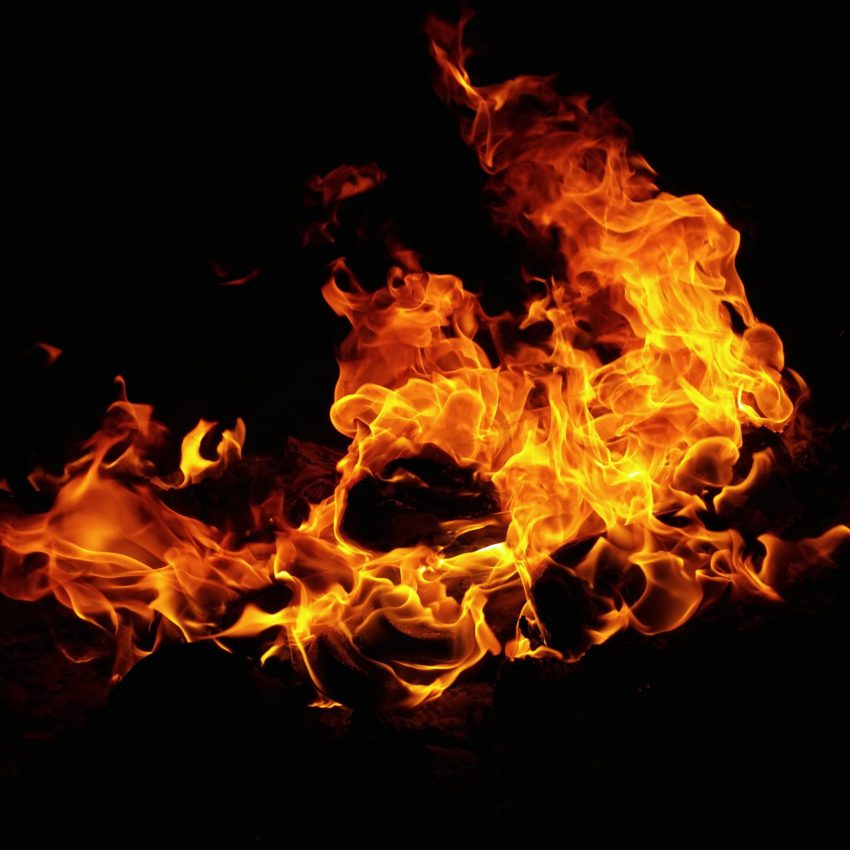 Fire is the spark of Life. Anything that attracts has a spark, so it can be a voice, physical features, or something very beautiful. Fire is the driving force behind all life's processes and so it is equated to money in the modern era.
The Fire represents spark and passion in life.
It can transform your life with confidence and enthusiasm.
The color associated is Red and Orange, the shape is a triangle, and the metal is Copper.
It gives security, cash flow, and confidence
The South Zone is the direction of the Fire element.
Balanced Fire Zone
If the Fire Zone is balanced in our house then it gives us Fame, and recognition in society, It gives you zeal, power, strength, and confidence. It gives money which becomes the driving force of life. You will have a sound sleep and enjoy warmth in relationships.
Imbalanced Fire Zone
If the Fire is imbalanced in the house it can give accidents, thefts, mishaps, stress related to money problems, lack of confidence, always fear, and also chances of a bad name. It takes away the zeal and enthusiasm from your life and you become fearful and a loner. You can even face problems inauspicious events like the marriage of children. You might even face health issues like acidity and indigestion.
Earth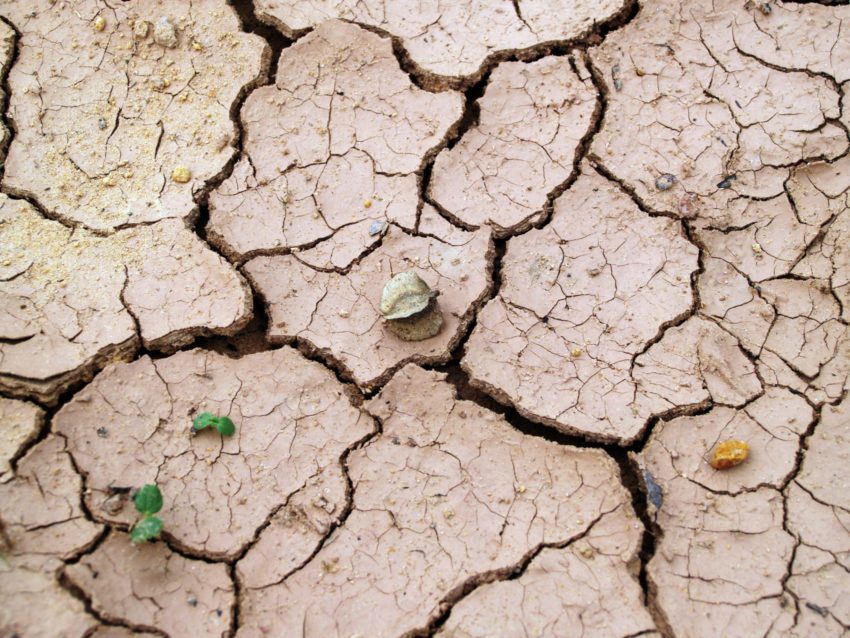 The Earth refers to solidarity, stability, strength, infinite patience, and storage of any kind. Our presence and voice also carry weight. So if you are talking and it's not making an impact on the other person, then the earth element in the house is surely disturbed. The reason is that your voice is originating from your knowledge and skills and these give true recognition to a person.
Weight is the main property of this element.
South West is the main direction of the Earth element.
The color associated is yellow, the shape is square, and the metal is Brass.
Balanced Earth Element
If Earth is balanced in a house it will give a stable career and relationship. It will also enhance your skills and give good results accordingly. It increases your let-go attitude, you will forget and move on to maintain relations. Your efforts will be rewarded in every sphere.
Imbalanced Earth Element
If Earth is imbalanced it will give career and relationship issues. It can also give laziness as the earth represents weight. You will feel lazy and have no energy in the body. Wasteful expenditure and disputes in the family are experienced. Despite having skills, your potential will not be recognized, your insecurities will be more, and you might hold grudges in your relations.
Space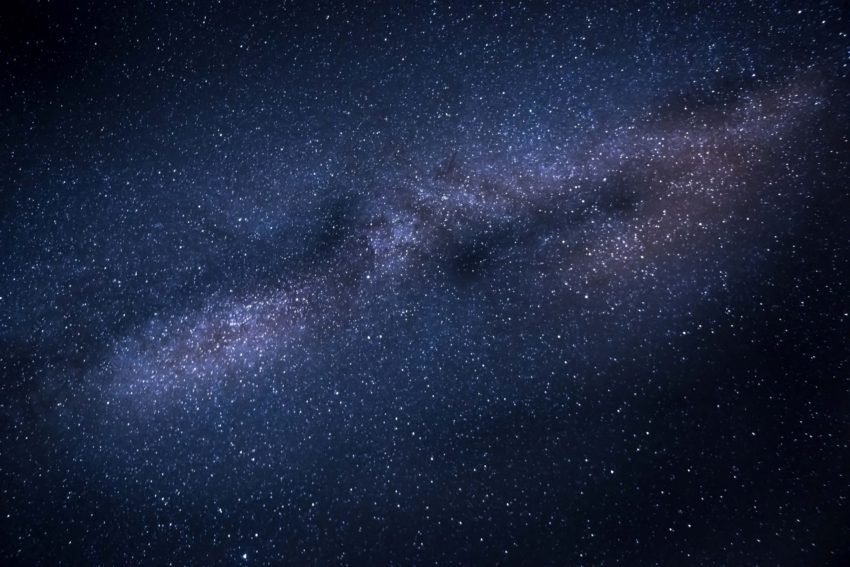 In the Alchemy of Space, the creation of space is the manifestation, but the source is mother earth. Space is also called Ether. Even though we cannot see space but it is present everywhere.
Space is associated with the terms Connectivity, expansion, and communication,
Even thoughts are space as it takes mental space. Actually, Space represents gains in all spheres of Life,
So happiness in marriage and success in business or career, space needs to be balanced in the building.
If this element is balanced then only it will create the next balanced element. As space will create water and water will create air and so on.
The color associated is white and grey, the shape is circular, and the metal is Iron.
Balanced Space Element
If Space is balanced in the house you get a direction in your life, become very organized, and have the skill to maintain good relations, it gives education and knowledge to excel in life. It also makes you organized, you can gain detachment and increase your introspection, which ultimately will take you towards the path of Spirituality.
Imbalanced Space Element
If Space is imbalanced, it will give you cloudiness in every sphere and so you can lose your relations, You will always feel stuck and have no clarity about future goals. There will be no gains, it can give depression and you will not be able to use your skills and gain profits.
I highly recommend MahaVastu, innovated by Shri Khushdeep Bansal in New Delhi, India. for all Vedic Knowledge lovers, who want to understand Vastu Shastra, at a deeper level.