The fusion of Astrology and tarot cards is absolutely intuitive and valuable. My keen interest and love in mystic science got me into the practice of testing with so many other branches of Occult science. I started this journey, with Vedic Astrology, which indeed is a vast ocean of knowledge.
And then I came across tarot cards, which actually awakened my intuitive abilities. The Tarot is linked to Astrology using the golden dawn methodology.
Each tarot card is linked with elements, zodiac signs, and planets. I started understanding tarot with elements, which in fact is the basis of occult science. Be it Astrology, Ayurveda, Vastu Shastra, or even Feng Shu, the whole truth is underneath these elements. Therefore I would suggest mystic science lovers, understand elements and then try to use them in day-to-day activities.
My true journey in the esoteric world started with elements. The truth is that if you are genuinely curious to learn something, the cosmos takes you to that path, which you had left incomplete in a previous life.
In the same vein, I got a beautiful book on Tarot by Corrine Kenner – Tarot and Astrology. I just loved this book, as it gave me so most pleasing details.
The truth is that occult science is so deep and mystical that it makes one explore so many different doorways to reach the hidden truth. However esoteric knowledge cannot be comprehended with superficial knowledge.
Moon Position
According to Vedic Astrology, the Moon star decides your starting point in this world. (Vimshottari Dasha Sequence) Most importantly, every Moon sign and star is linked with a group of Tarot cards.
So in this post, I will be sharing how to analyze the position of the Moon – feelings, and sentiments with the help of Tarot cards. And in addition, how it helps in identifying your abilities and flaws. And then one gets the direction, in the journey towards excellence.
Through Tarot Cards, you get the best Insights and Guidance.
Tarot and Elements
The best way to get started drawing connections between Astrology and the Tarot Cards is with the elements. In my view, see what anti-element is disturbing your Moon sign element. Here you should have a complete understanding of what elements are supporting or negating each other.
In Astrology, there are 3 zodiac signs per element.
Wands – Fire
Associated with passionate, dynamic, and temperamental.
Aries, Leo, Sagittarius
Cups – Water
Associated with feelings, emotions, and relationship
Cancer, Scorpio, Pisces
Swords – Air
Associated with intellect, communication, and curiosity
Gemini, Libra, Aquarius
Pentacles – Earth
Associated with stability, solidarity, and materialistic
Taurus, Virgo, Capricorn
See how each Tarot Card is actually linked to Astrology.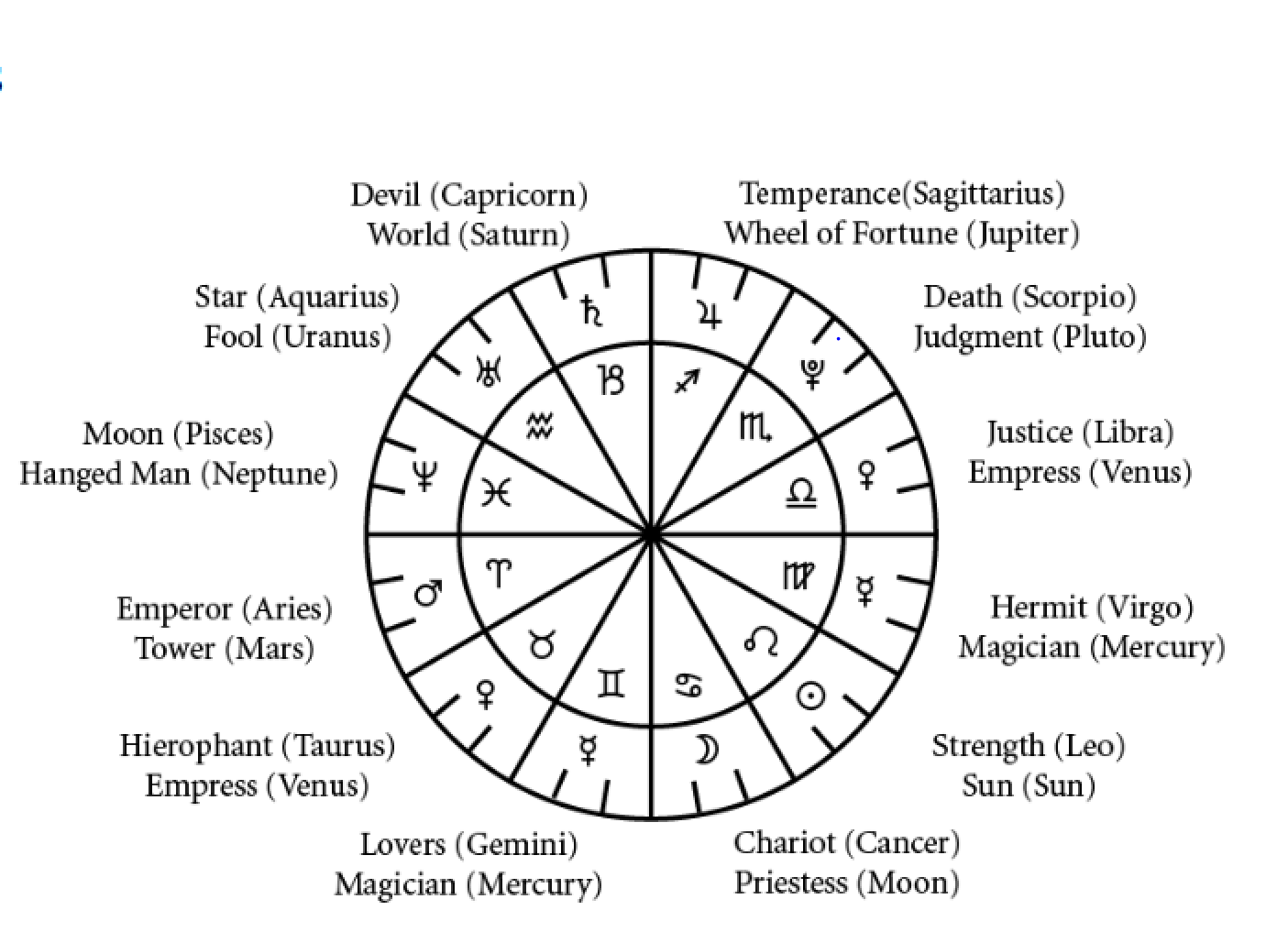 In Vedic Astrology, I learned about the Hora system which is alike the Chaldean order. The Chaldean Order indicates the relative orbital velocity of the Planets from our vantage point on Earth. The Chaldean Order goes Saturn – Jupiter – Mars – Sun – Venus – Mercury – Moon.
To clarify
If Monday is the first day of the week. It is followed by Tuesday, Wednesday, Thursday, Friday, and Saturday. According to the Hora chart, just count backward.
For example, start with Sunday – Sun, leave Saturday – Saturn, and then choose Friday – Venus.
And then the pattern will be like Mars, Sun, Venus, Mercury… Moon, Saturn, Jupiter This pattern repeats 5 times and in the end, Mars is again added. And the above figure is based on this Chaldean order.
P.S: This is a little complex, but it has been shared for better understanding.
Major Arcana: Link with Zodiac Signs and Planets
The Fool – Uranus
I. The Magician – Mercury
II. The High Priestess – Moon
III. The Empress – Venus
IV. The Emperor – Aries
V. The Hierophant – Taurus
VI. The Lovers – Gemini
VII. The Chariot – Cancer
VIII. Strength – Leo
IX. The Hermit – Virgo
X. Wheel of Fortune – Jupiter
XI. Justice – Libra
XII. The Hanged Man – Neptune
XIII. Death – Scorpio
XIV. Temperance – Sagittarius
XV. The Devil – Capricorn
XVI. The Tower – Mars
XVII. The Star – Aquarius
XVIII. The Moon – Pisces
XIX. The Sun – Sun
XX. Judgment – Pluto
XXI The World – Saturn
So now we know about elements, zodiac signs, planets, and their link with Tarot Cards. Let's move to the applicable part of Astrology and Tarot Cards.
Analyze step by step
During my horoscope readings, I realized that the cause of misery in life can be analyzed with the position of the Moon sign and its constellation in the horoscope. In fact, Moon is just like the ocean tide, it can be high and low as per its strength. So it's Moon's position in the chart that explains where your mind drives all the time, and what it constantly feels about. Thus Moon holds the explanation for the discomfort and pain.
So I started analyzing Moon and its star lord through Tarot Cards.
For instance, if Moon is at 28 degrees, the Taurus sign
Note the Moon sign and its degree – this will highlight the star
Moon is in Taurus sign – 28 degrees – 3rd segment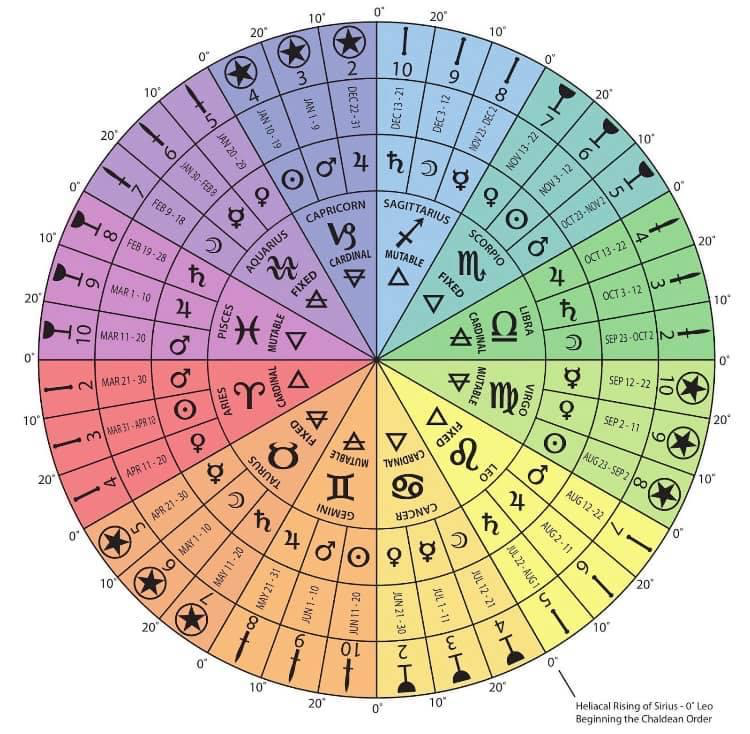 Check the Taurus sign at 28 degrees in the above chart.
There are 3 segments in each zodiac sign
The 3rd segment of the Taurus sign is 20 – 30 degree
Hence this segment belongs to 7 pentacles – minor arcana, Empress – Venus, and Hierophant – Taurus. (So keep 3 cards in mind)
Things to do: Take out your Moon degree as per your birth details, and note the segment as per the above chart.
| | | | |
| --- | --- | --- | --- |
| | 2, 3, 4 (Cardinal) | 5, 6, 7 (Fixed) | 8, 9, 10 (Mutable) |
| Wands (Fire) | Aries | Leo | Sagittarius |
| Pentacles (Earth) | Capricorn | Taurus | Virgo |
| Swords (Air) | Libra | Aquarius | Gemini |
| Cups (Water) | Cancer | Scorpio | Pisces |
Astrology and Tarot – 3
Taurus Tarot Cards
Fixed Earth
5 of Pentacles – Mercury in Taurus – 0 – 10 degree
6 of Pentacles – Moon in Taurus – 10 – 20 degree
7 of Pentacles – Saturn in Taurus – 20 – 30 degree
Astrology and Tarot – 4
Moon at 28 degrees
7 of pentacles
The fixed Earthy sign is Taurus
This is Saturn in Taurus (check-in above charts)
Understand Your Mind: Using Astrology and Tarot
For Analysis we have
Major Arcana – Empress – Venus
Zodiac Sign – Hierophant – Taurus
7 of Pentacles – Minor Arcana
Taurus is Fixed: Stable and persistent energy.
Pentacles: Earthy signs are certainly the most grounded and more into the materialistic world. However, they are practical, loyal, stable, and very persistent in their work.
Major Arcana: The Empress corresponds to Taurus's ruling planet, Venus.
Zodiac Sign: The Hierophant corresponds to the sign of Taurus. In short, Taurus represents attractiveness, art, culture, aesthetics, and luxury.
Minor Arcana: 7 of pentacles – Saturn in Taurus
The Seven of Pentacles often symbolizes patience and reward, obstacles and delays, and worries about expected outcomes.
Saturn in Astrology signifies delay, despair, disappointment, and disease. One will have to really work hard, and face impediments and frustrations. In addition, Saturn is a planet of Karma, so it wants us to lead a very disciplined and structured life.
The Moon sign and Degree will decide the tarot card, so if 0 – 10, 1st segment so 1st card in Taurus, 10 – 20, 2nd segment, 20 – 30, 3rd segment.
We have a 29 degrees Moon so 3rd card – 7 of pentacles will be taken for analysis.
Construct the Picture of Your Sub Conscious Mind
In this case, the person's mind is linked with an earth element – so he wants stability in the relationship and finances. The Hierophant displays his belief in traditional values.
Similarly, Empress loves luxury and is very resourceful.
And then the minor arcana 7 of pentacles states results and developments in life will be attained only after delay and tolerance.
In sum join these 3 cards, as these will cause pain if imbalanced, and these only will take towards excellence.
Guidance for the example Moon position: This will be as per query, as these 3 cards of Tarot, and Saturn laws need to apprehend to get the right direction.
For instance, if the person wants to know about his career, he should add creativity, patience, and then a traditional approach. So the above three cards will coach him and if imbalanced then his mind will be in conflict.
Next level Analysis: Here one needs to know the planetary relationship in Astrology. And guidance will be to remove the affliction on the sensitive Moon.
Moreover, the planet PAC (position aspect conjunct) with Moon, will have an additional effect on the Mind. So if Mars is with Moon then the emotional mind gets agitated. Now this irritation will vary. Meanwhile, we will decide to take the upright position or reverse position of major and minor arcana.
Here the analysis will vary in each birth chart. So if one has complete information about planets, and their relationship considering PAC (position – aspect – conjunction) and then the tarot card's traditional meanings. Then one can add its intuitive insight to the entire picture.
Conclusion
In my view, it's only the mind that empowers you if strong. And if weak then it easily gets affected by negative thoughts. Therefore to work on the weak mind (as the mind is sensitive, it fluctuates), you can use Moon's position in the horoscope and link with the Tarot.
Through this integration, you can know about the basic mindset and its shortcomings. In addition, you can add intuitive insights during the reading. That is the best part of Astrology and Tarot integration. And then through this, you can get guidance to remove blockages in your mind.
I would request all psychic readers to test this practice in their birth chart and come up with new insight. I will be coming up with case studies, in which this fusion of Astrology and Tarot underlines the blockage or the pain point and also gives the resolution with ease.