Financial Prosperity in Horoscope: Do I have wealth yoga in my Kundli? What is finance astrology? Vedic Astrology has answers to these questions. Through Horoscope, we certainly get an impression of your career. Will it be a success? average, or only obstacles.
Let's discuss what's the meaning of success in a Career, firstly it gives a feeling of security and accomplishment. Secondly, it gives huge money and lastly, it makes you popular. Today we live in a world that is governed by social status and money, and working your best way will definitely improve your quality of life.
Wealth Yoga in Horoscope
In Astrology, there are certain Yogas formed which tell about the financial status, huge money, and fame. Let's decode the terms of success and money. The perfect Rajyogas formed by Kendra and Trikon lords give immense wealth and fame.
Besides best combination is the relation of Lagna lord, 5th lord, 9th lord, 2nd lord, and 10th lord. Therefore, to check financial prosperity in the horoscope, we need to see the position of Lagna Lord, Jupiter, Sun, Mercury, and Moon.
Sun
The position of the Sun in a chart is the most important, as this is the Natural Atma Karak in a chart. This tells about the purpose of the soul. So if Sun is in the 1st house, the person will be self-obsessed, in the 2nd house he will be money-minded, foodie, and talkative.
Similarly, the position of Sun in the different Houses will tell about different goals. If this is forming raj yogas, and there is no negative influence, then the person's desires or targets will surely be achieved. In fact, this is the planet that makes you shine among the masses.
Jupiter
This is the planet of expansion, growth, and wealth. This brings luck and prosperity and the strength of Jupiter has to be analyzed deeply, in the Navamsha chart, and through the Nakshatra lord of Jupiter.
If it makes a combination with the 5th house, 9th house, 11th house, and 11th house, and no negative influence, then it will give you the right knowledge at the right time. If it's forming Rajyoga then it will surely take you towards success and prosperity.
Mercury
This is intelligence and cleverness, so where ever it is placed, the person will use his cleverness and intelligence related to that particular house. If it makes raj yogas with education and professional houses, then it will take you towards success in education and profession.
The most important factor is that there shouldn't be any negative influence on this. As if Mercury gets afflicted, it can affect your decision-making skills. So if your intelligence is not guided properly then it becomes difficult to attain success in your career. All big decisions and ideas are the first step towards the ladder of a successful career.
Moon
Moon is the Manas. So where ever it is placed, your mind will think in that direction. For instance, if Moon posited in the 10th house, the person will always be worried, thinking, and working related to his work, name, and status. But if Moon is afflicted then other Rajyogas lose power to give good results. If you have to find out, which nakshatra is best for wealth? I will say Moon nakshatra depicts the real picture of Money in your kundli.
Financial prosperity in horoscope: Birth Chart of Bill Gates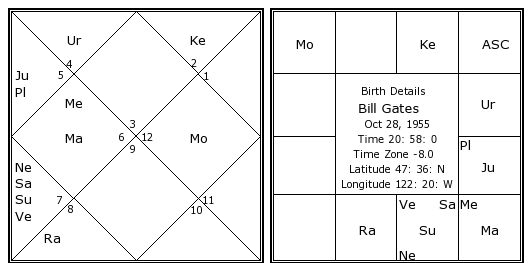 Now let's understand the combinations of a successful career in astrology with the help of a case study of Bill Gates. Perhaps the most successful person, who created his own world.
The Lagna is Gemini, a movable sign, which is intellect oriented, the 3rd lord of the natural zodiac, Mercury, and posited in 4th house, Virgo sign again lord is mercury.
Mercury is with Mars, 11th, and 6th lord, a technical planet. However the planets posited in the 10th house and 6th house, Rahu and moon played a significant role in giving him a turning edge.
The position of Sun in the 5th house (Purva Punya house ) with the 5th lord and the 9th lord (Bhagyasthan) is the game-changer in this chart. Therefore all these planets aspects the 11th house of gains, social circle, MNC, and fulfillment of desires.
The 7th and 10th lord Jupiter in 3rd house aspects 9th house, 7th house, and 11th house is again forming raj yoga. This combination of the 7th house (business and partnership) with the 11th house-made him create his own world.
The 2nd lord and 11th lord are in a mutual aspect, so they are making wonderful raj yoga. This combination gave him a huge savings account.
Therefore in the above chart, raj yogas, clearly speak of the combinations for a successful career in astrology.
Conclusion
I would like to add the most important factor of these raj yogas, that there should be a relation between the 6th 8th, and 12th lords. As a result, the native must have gone through the struggle, fear, and losses but his determination, willpower, and wisdom did not allow him to give up. Hence this attitude and hard work made him create his own world and become the richest and successful in the world.